Ducati Diavel Service Manual: Riding style function (riding style change)
This function changes the motorcycle riding style.
Each riding style is associated with a different intervention level of the traction control (dtc - ducati traction control) and different engine power and output.
To change the motorcycle riding mode, press the reset button once (3) and the "riding mode" menu will appear on the display.
Select the desired riding mode by pressing the reset button (3) repeatedly. Press the same button for 3 seconds to confirm the riding style.
If the twistgrip is closed (vehicle stopped) the riding style change will occur immediately; if the twistgrip grip is open (vehicle moving) the message "close throttle to activate" will appear on the display, which means that the throttle must be closed; this message will appear for 5 seconds, during which the gas must be closed in order to activate the new riding style.
If the twistgrip is not closed after 5 seconds, the procedure is aborted (no change is made).
If the "riding mode" menu is activated and the reset button (3) is not kept pressed for 10 seconds, the dashboard will automatically exit the display mode without making any change.
Warning
Ducati recommends changing the riding style when the vehicle is stopped. If the riding style is changed while riding, be very careful (it is recommended to change the riding style at a low speed).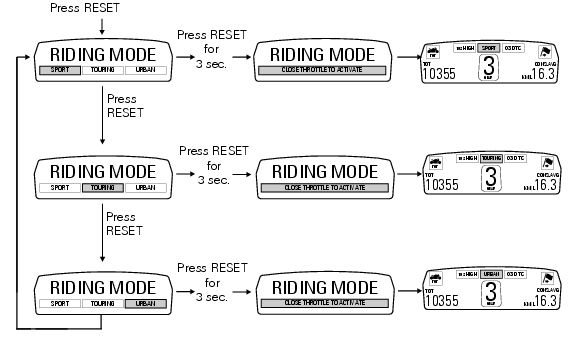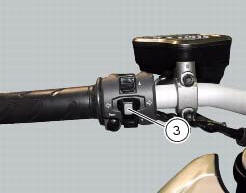 This function indicates if "lap" function (lap number) is active. When "lap" is not lit up, this means that the function has been switched off. The "lap" function can be activated using the "lap ...
This function indicates that the vehicle is about to or has travelled a distance for which an authorised ducati service centre should be contacted to have the general maintenance or oil change pe ...
Other materials:
Trip 2 meter
This function shows the distance travelled since the trip meter was last reset (in km or miles depending on the specific application). Press and hold (1) "s" for 3 seconds while in this function to reset the trip odometer. When the reading exceeds 9999.9, Distance travelled is reset and t ...
Injection relay
Introduction The fuel pump, injectors and ignition coils are all powered via the injection relay. The relay also sends voltage to the engine control unit, which enables activation of the relay itself. Component assembling position A injection relay; b etv relay (throttle valve actuator mot ...
Adjusting the steering head bearings
Excessive handlebar play or shaking forks in the steering head indicate that the play in the steering head bearings requires adjustment. Proceed as follows: loosen the clamp screw (1) that holds the steering tube to the steering head. Slacken the clamp screws (2) securing the steering head ...