Ducati Diavel Service Manual: Symbols - abbreviations - references
To allow quick and easy consultation, this manual uses graphic symbols to highlight situations in which maximum care is required, as well as practical advice or information. Pay attention to the meaning of the symbols since they serve to avoid repeating technical concepts or safety warnings throughout the text. The symbols should therefore be seen as an aid to memory. Please refer to this page whenever in doubt as to their meaning.
The terms right-hand and left-hand refer to the motorcycle viewed from the riding position.
Warning
Failure to comply with these instructions may put you at risk, and could lead to severe injury or even death.
Important
Failure to follow the instructions in text marked with this symbol can lead to serious damage to the motorcycle and its components.
Note
This symbol indicates additional useful information for the current operation.
Text references
References in bold type indicate a part that is not illustrated in the figures next to the text, but which can be found in the exploded views at the beginning of each chapter.
References in non-bold type indicate a part that is illustrated in the figures alongside the text.
Product specifications
Symbols in the diagram show the type of threadlocker, sealant or lubricant to be used at the points indicated. The table below shows the symbols used and the specifications of the various products.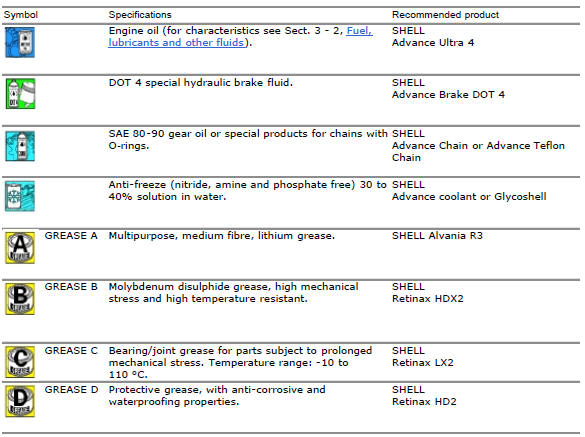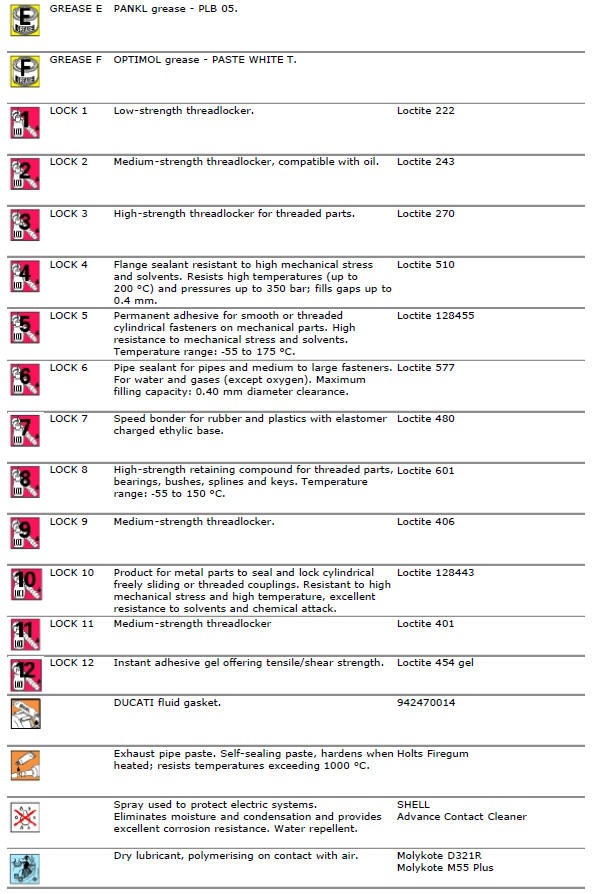 How to use this manual This manual has been prepared for technical personnel at ducati authorized service centres with the aim of providing fundamental information on how to work in accordance wit ...
Other materials:
Specific operating strategies
Idle speed No electric motor is used for idle speed regulation (bypass is modulated instead with the throttle valve), as idle speed control is effected by the ride-by-wire system. Idle speed is maintained by the control unit when the speed drops below a specific threshold and when the clutch ...
Gear change pedal
When released, the gear change pedal (1, fig. 96) Automatically returns to rest position n in the centre. This is indicated by the instrument panel light n (2, fig. 4) Coming on. The pedal can be moved: down = press down the pedal to engage the 1st gear and to shift down. At this point the n ...
Checking brake and clutch fluid level
The levels should not fall below the min marks on the respective reservoirs. If the level is too low, air can get into the circuit, thus impairing the efficiency of the system. Brake and clutch fluid must be topped up and changed at the intervals specified in the scheduled maintenance table ...