Ducati Diavel Owners Manual: Tank filler plug

Note
To open or close the tank filler plug using the active key, set the metal part in the middle position, as shown on page 86.
Opening
Lift the cover (1, fig. 100) And insert the active or passive key into the lock. Give the key a 1/4 turn clockwise to unlock.
Lift the plug (2, fig. 101).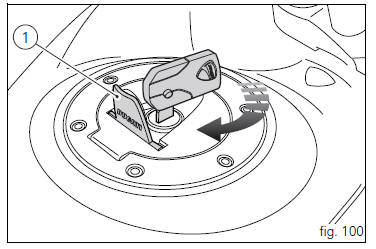 Closing
Close the cap (2, fig. 101) With the key inserted and press it into its seat. Remove the key and replace the lock cover (1, fig. 100).

Note
The cap can only be closed with the key inserted.

Warning
Always make sure you have properly refitted (see page 140) and closed the plug after each refuelling.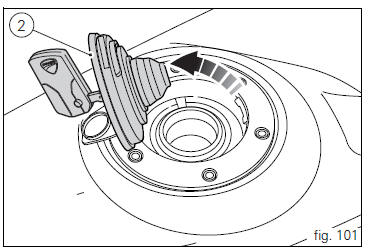 Seat lock
Work latch (1, fig. 102) To remove the seat and access to the underseat compartment and any other device under it.
Tank filler plug. Seat lock. Side stand. Rear-view mirrors. Front fork adjusters. Rear shock absorber adjusters. Catalytic converter. Exhaust silencer (see "warning" on ...
Insert the active or passive key in the lock (1, fig. 102), Turn it clockwise and simultaneously apply downward pressure in the area of the catch to release the pin. Pull the seat backwards to rele ...
Other materials:
Removing of the rear wheel
Place the motorcycle on the rear service stand and engage the 1st gear. Remove the clip (6). Using a suitable socket wrench, loosen the wheel nut (1). Fully unscrew the nut (1), then remove the washer (2) and the spacer (3). Remove the rear wheel from the motorcycle. ...
Removal of the cylinder/piston assembly
Loosen the clamps (7) and remove the hoses (8) and (9) from the cylinder barrels (10) and from the alternator-side crankcase cover. If damaged, unscrew the unions (6). Note The following procedure is described with the engine removed from the frame and the cylinder head r ...
Checking and topping up coolant level
Check coolant level in the expansion tank on the right side of the vehicle. Steer the handlebar completely to the left and check that the level is between the min and max marks on the side of the expansion reservoir. Top up if the level is below the min mark. Unscrew the filler plug (1) ...