Ducati Diavel Owners Manual: Tank filler plug

Note
To open or close the tank filler plug using the active key, set the metal part in the middle position, as shown on page 86.
Opening
Lift the cover (1, fig. 100) And insert the active or passive key into the lock. Give the key a 1/4 turn clockwise to unlock.
Lift the plug (2, fig. 101).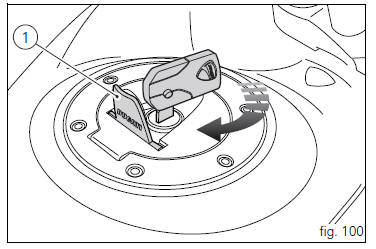 Closing
Close the cap (2, fig. 101) With the key inserted and press it into its seat. Remove the key and replace the lock cover (1, fig. 100).

Note
The cap can only be closed with the key inserted.

Warning
Always make sure you have properly refitted (see page 140) and closed the plug after each refuelling.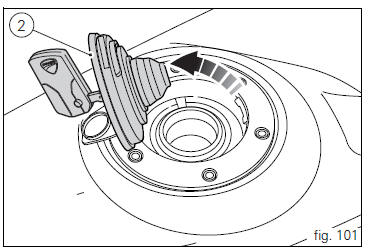 Seat lock
Work latch (1, fig. 102) To remove the seat and access to the underseat compartment and any other device under it.
Tank filler plug. Seat lock. Side stand. Rear-view mirrors. Front fork adjusters. Rear shock absorber adjusters. Catalytic converter. Exhaust silencer (see "warning" on ...
Insert the active or passive key in the lock (1, fig. 102), Turn it clockwise and simultaneously apply downward pressure in the area of the catch to release the pin. Pull the seat backwards to rele ...
Other materials:
Horn not working
Fault codes Dds: horn diagnosis -> short circuit to ground (s.C. Gnd). Dashboard: the error "claxon" (horn) is shown on the service display. The eobd warning light activates. Wiring diagram Db dashboard connection, s horn button. 5 Blue/white - b/w, 1 red/blue - r/b, db 19 purple/bl ...
Clutch lever button
Introduction The clutch button is located on the clutch lever. Together with the signal from the side stand button and the neutral signal generated by the gear sensor (transmitted to the engine control unit over the can line), the clutch lever position signal is used to enable or disable engi ...
Electric system
Basic electric items are: headlight: low beam bulb type: 1xh7 blue vision (12v-55w); high beam bulb type: 1xh1 (12v-55w); parking light: led (12v-2.4W). Electrical controls on handlebars. Turn indicators: front: led (13.5V-2.9W). Horn. Brake light switches. Sealed battery, 12v-10 ...