Ducati Diavel Owners Manual: Tank filler plug

Note
To open or close the tank filler plug using the active key, set the metal part in the middle position, as shown on page 86.
Opening
Lift the cover (1, fig. 100) And insert the active or passive key into the lock. Give the key a 1/4 turn clockwise to unlock.
Lift the plug (2, fig. 101).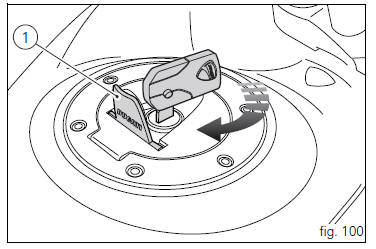 Closing
Close the cap (2, fig. 101) With the key inserted and press it into its seat. Remove the key and replace the lock cover (1, fig. 100).

Note
The cap can only be closed with the key inserted.

Warning
Always make sure you have properly refitted (see page 140) and closed the plug after each refuelling.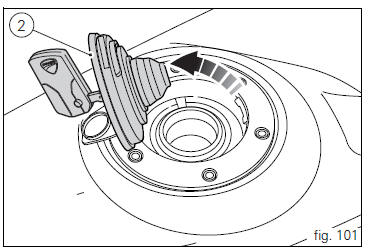 Seat lock
Work latch (1, fig. 102) To remove the seat and access to the underseat compartment and any other device under it.
Tank filler plug. Seat lock. Side stand. Rear-view mirrors. Front fork adjusters. Rear shock absorber adjusters. Catalytic converter. Exhaust silencer (see "warning" on ...
Insert the active or passive key in the lock (1, fig. 102), Turn it clockwise and simultaneously apply downward pressure in the area of the catch to release the pin. Pull the seat backwards to rele ...
Other materials:
Removing the frame and the lateral footrests
Loosen the two special screws (6) to separate the frame (1) from the lateral brackets (2) and (3). On the left side of the vehicle block retaining pins (9) and loosen the nuts (8) on the right side at the same time. Slide out the retaining pins (9) and remove the frame (1) from the lateral ...
Reassembly of the clutch-side crankcase cover
Fit the plug (14) and the gasket (13). Fit the plug (17) and the gasket (15). If the bush has been replaced, fully seat the new bush (7) in the slot in the cover using a suitable drift and a press. If the sealing ring (8) needs to be renewed, fit the new seal into the crankcase cover, po ...
Immobilizer override procedure
This procedure makes it possible to "temporarily" turn on the motorcycle if the hf (hands free) system is not working. Note The pin code function must be activated by entering your 4 digit pin in the instrument panel, otherwise the vehicle cannot be turned on temporarily in the case ...