Ducati Diavel Owners Manual: Tft - parameter setting/display

Warning
Any adjustments to the instrument panel must only be carried out when the motorcycle is stationary. Never operate the instrument panel controls while riding the motorcycle.
At the end of the check, the instrument panel always displays as the "main" indication the odometer (tot) on the left and the average fuel consumption on the right (unless menu 2 was disabled).
At the end of the initial check, the instrument panel will always show the "main" display, indicating the following information:
Set "riding style" (riding mode);
Gear indication (gear);
Menu 1: odometer (tot);
Menu 2: average fuel consumption (cons. Avg).
By pressing the (1, fig. 14) ?


button it is possible to switch to the following functions of menu 1:
Trip1 - trip meter 1;
Trip2 - trip meter 2;
Trip fuel - distance travelled on fuel reserve (only if active).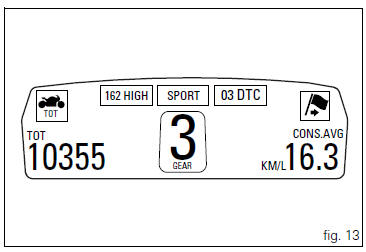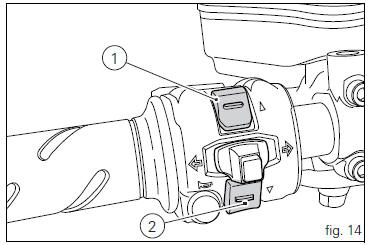 By pressing the (2, fig. 14) ?


button it is possible to switch to the following functions of menu 2:
Cons. - Current fuel consumption;
Speed avg - average speed;
Trip time - trip time;
Air - air temperature.

Note
Menu 2 viewing can be disabled through the "menu 2" function of the setting menu.
Menu 1 (tot, trip1, trip2, trip fuel). Menu 2 (cons.Avg., Cons., Speed avg, air and trip time) if active. Gear / neutral indication. Icon referred to the function below from menu 1. Indic ...
This function shows the total distance covered by the vehicle (in km or miles depending on the specific application). At key-on the system automatically enters this function. The odometer readi ...
Other materials:
Steering head: steering
Screw Steering head Screw Lower rh u-bolt Lower lh u-bolt Bearing Screw Sealing ring Washer Spacer Washer Nut Washer Screw Bottom yoke Dowel Nut Screw Special screw Clip nut Left-hand support Front splashguard Right-hand support Front support S ...
Injection and ignition
Introduction Ignition is via a single stick coil per cylinder installed in the spark plug well. Each thermal unit is supplied by a single injector, placed under the throttle valve. The amount of fuel injected and the ignition advances are determined by the control unit specifically for each c ...
Refitting the lubrication system
Note Before fitting the pipes (7), it is recommended to check the presence of the o-rings (e). Lubricate them by using engine oil. If the nipples (5) have been removed from the radiator insert a washer (6) on each nipple (5) and apply specific threadlocker on threads on the radiator side ...