Ducati Diavel Owners Manual: Tft - parameter setting/display

Warning
Any adjustments to the instrument panel must only be carried out when the motorcycle is stationary. Never operate the instrument panel controls while riding the motorcycle.
At the end of the check, the instrument panel always displays as the "main" indication the odometer (tot) on the left and the average fuel consumption on the right (unless menu 2 was disabled).
At the end of the initial check, the instrument panel will always show the "main" display, indicating the following information:
Set "riding style" (riding mode);
Gear indication (gear);
Menu 1: odometer (tot);
Menu 2: average fuel consumption (cons. Avg).
By pressing the (1, fig. 14) ?


button it is possible to switch to the following functions of menu 1:
Trip1 - trip meter 1;
Trip2 - trip meter 2;
Trip fuel - distance travelled on fuel reserve (only if active).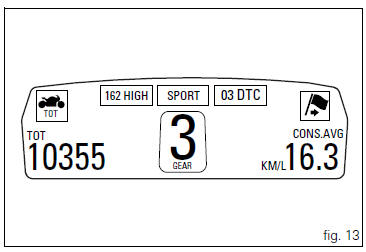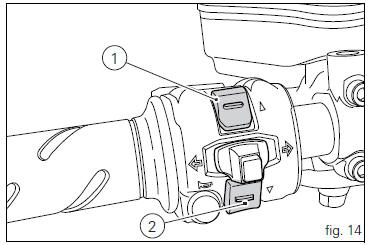 By pressing the (2, fig. 14) ?


button it is possible to switch to the following functions of menu 2:
Cons. - Current fuel consumption;
Speed avg - average speed;
Trip time - trip time;
Air - air temperature.

Note
Menu 2 viewing can be disabled through the "menu 2" function of the setting menu.
Menu 1 (tot, trip1, trip2, trip fuel). Menu 2 (cons.Avg., Cons., Speed avg, air and trip time) if active. Gear / neutral indication. Icon referred to the function below from menu 1. Indic ...
This function shows the total distance covered by the vehicle (in km or miles depending on the specific application). At key-on the system automatically enters this function. The odometer readi ...
Other materials:
Changing the engine oil and filter cartridge
Note This operation has to be carried out with hot engine (but turned off) because the oil in these conditions is more fluid and its evacuation is faster and complete. Remove the drain plug (3) with seal (a) from the oil sump and allow the oil to drain off. Warning Dispose of oil and/or fil ...
Removing the front footrest brackets
Note The assembly of the front footrests is described only for the right one (2) but it is the same also for the left one. Place the spring (4) bringing the end (a) onto the footrest (2). Place the footrest (2) in the correct position, by inserting the end (c) of the spring (4) in the hole ...
Guided diagnosis
Note The on-screen icons used during this procedure are explained in a table at the end of this section. The dds diagnosis instrument guides the operator step-by-step through the various diagnostic procedures, providing descriptions and documentation for motorcycle components, wiring diagra ...