Ducati Diavel Owners Manual: Tft - parameter setting/display

Warning
Any adjustments to the instrument panel must only be carried out when the motorcycle is stationary. Never operate the instrument panel controls while riding the motorcycle.
At the end of the check, the instrument panel always displays as the "main" indication the odometer (tot) on the left and the average fuel consumption on the right (unless menu 2 was disabled).
At the end of the initial check, the instrument panel will always show the "main" display, indicating the following information:
Set "riding style" (riding mode);
Gear indication (gear);
Menu 1: odometer (tot);
Menu 2: average fuel consumption (cons. Avg).
By pressing the (1, fig. 14) ?


button it is possible to switch to the following functions of menu 1:
Trip1 - trip meter 1;
Trip2 - trip meter 2;
Trip fuel - distance travelled on fuel reserve (only if active).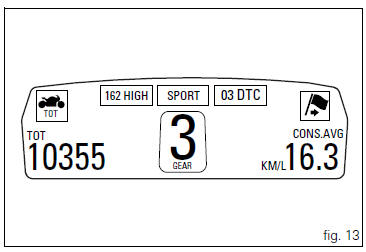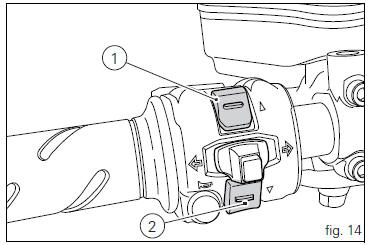 By pressing the (2, fig. 14) ?


button it is possible to switch to the following functions of menu 2:
Cons. - Current fuel consumption;
Speed avg - average speed;
Trip time - trip time;
Air - air temperature.

Note
Menu 2 viewing can be disabled through the "menu 2" function of the setting menu.
Menu 1 (tot, trip1, trip2, trip fuel). Menu 2 (cons.Avg., Cons., Speed avg, air and trip time) if active. Gear / neutral indication. Icon referred to the function below from menu 1. Indic ...
This function shows the total distance covered by the vehicle (in km or miles depending on the specific application). At key-on the system automatically enters this function. The odometer readi ...
Other materials:
Refitting the abs control unit
If the brake hoses (7), (8), (9) and (10) on the abs control unit are changed or removed, ensure that the fittings on the control unit are positioned correctly. Warning If incorrectly positioned, the hose can affect brake operation and foul moving parts. Position the hose as shown in the fig ...
Warning indication (alarms/signals)
The instrument panel activates in real-time some warnings / malfunction that are not dangerous for the correct operation of the vehicle. At key-on (at the end of the check) one or more "warnings" are displayed if they are active. When a "warning" is triggered, the indica ...
Parking
Park the stopped motorcycle on the side stand. Turn the handle completely to the left or right. If this operation is performed within 60 seconds after the engine stop, the message "waiting for lock" (fig. 120) Will appear on the display of the instrument panel for approx. 5 Seco ...