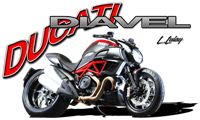 Ducati Diavel
Free Service and Repair manuals
Ducati Diavel Service Manual: Throttle valve position sensor
Introduction
The throttle valve position sensor (tps) of the diavel is mounted on the throttle body.
The sensor is integrated into the throttle valve actuator motor, which turns the spindle of the vertical cylinder throttle valve directly.
The sensor sends information to the engine control unit relative to the position of the vertical cylinder throttle valve and, as a consequence, of the horizontal cylinder throttle valve, which is connected to the former by a link rod.
For safety reasons, the sensor contains two hall effect sensing elements (a main element - main - and a secondary element - sub). The two potentiometers share the same power and ground.
2019 | www.dudiavel.com |