Ducati Diavel Service Manual: Headlight aim
The motorcycle must be perfectly upright with the tires inflated to the correct pressure and with a rider seated, perfectly perpendicular to the longitudinal axis.
Position the motorcycle 10 metres from a wall or a screen.
On the wall or surface, draw a horizontal line at the same height from the ground as the centre of the headlight and a vertical line aligned with the longitudinal axis of the motorcycle.
Note
If possible, perform this check in conditions of low ambient light.
Switch on the low beam. The height of the upper limit between the dark area and the lit area must not be more than nine tenths of the height of the centre of the headlight from the ground.
Note
This is the procedure specified by italian regulations for checking the maximum height of the light beam.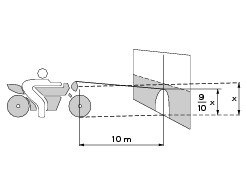 The vertical alignment of the headlamp can be adjusted manually by turning screw (1).
Turn the screw (2) to set beam height.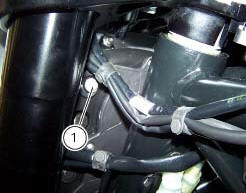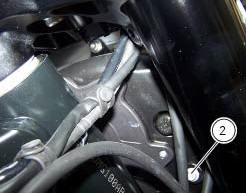 Changing the headlight bulbs Before replacing a burnt out light bulb, ensure that the replacement bulb has the same voltage and power rating as specified for the lighting device in question (sect. ...
Checking the indicating devices In the event of a fault, the internal connections of the device must be checked in all operating conditions. To do this, it is necessary to disconnect the switch co ...
Other materials:
Water radiators
Clip nut Spacer Vibration damper mount Screw Screw Spacer Vibration damper mount Clip nut Bush Spacer Rear sprocket Screw Water radiator (right) Screw Screw Air deflector (right) Special screw Electro-fan Screw Vibration damper mount Screw Plug Half ...
Reassembly of the cylinder head
The exhaust side can be identified by the three threaded holes on the flange. The intake side can be identified by the presence of four threaded holes on the flange. All the photos in this chapter refer to a vertical cylinder head. Valve guide sealing rings Position the cylinder head o ...
Deactivating the service indication on the dashboard
The message "serv" is displayed on the dashboard, indicating that the motorcycle should be serviced in accordance with the programmed maintenance plan. This indication is activated after the first 1000 km and thereafter at intervals of 12000 km. After the scheduled service has been carried ...