Ducati Diavel Service Manual: Headlight aim
The motorcycle must be perfectly upright with the tires inflated to the correct pressure and with a rider seated, perfectly perpendicular to the longitudinal axis.
Position the motorcycle 10 metres from a wall or a screen.
On the wall or surface, draw a horizontal line at the same height from the ground as the centre of the headlight and a vertical line aligned with the longitudinal axis of the motorcycle.
Note
If possible, perform this check in conditions of low ambient light.
Switch on the low beam. The height of the upper limit between the dark area and the lit area must not be more than nine tenths of the height of the centre of the headlight from the ground.
Note
This is the procedure specified by italian regulations for checking the maximum height of the light beam.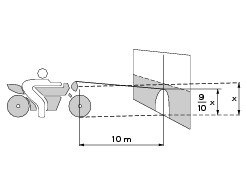 The vertical alignment of the headlamp can be adjusted manually by turning screw (1).
Turn the screw (2) to set beam height.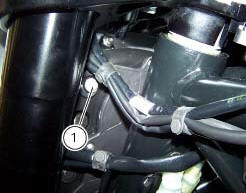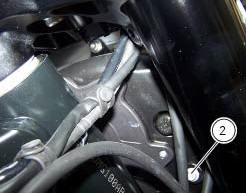 Changing the headlight bulbs Before replacing a burnt out light bulb, ensure that the replacement bulb has the same voltage and power rating as specified for the lighting device in question (sect. ...
Checking the indicating devices In the event of a fault, the internal connections of the device must be checked in all operating conditions. To do this, it is necessary to disconnect the switch co ...
Other materials:
Reassembling the clutch
Position the spacer (13). Fit the flat ring (11) and the belleville washer (10) on the clutch center (12), so that the convex side faces the clutch drum. Locate the belleville washer (8). Apply the prescribed grease to the thread of the gearbox primary shaft and the mating surfac ...
Operating principle
Introduction The hands free system features two separate on/off buttons, either one of which may be used as preferred by the rider. For practical reasons, we recommend using the button on the handlebar rather than the button located underneath the plastic shield covering the hands free syst ...
Refitting the timing covers
Locate vertical cylinder external cover (25), horizontal cylinder external cover (3) and central external cover (1) by starting the screws (4). Apply the recommended threadlocker to the screws (4). Tighten the screws (4) to a torque of 10 nm (min. 9 Nm - max. 11 Nm) (sect. 3 - 3, Engine t ...