Ducati Diavel Service Manual: Vehicle speed indicator
This function displays vehicle speed (km/h or mph depending on the set measurement system).
The dashboard receives information about the actual speed and displays the number increased by 5%.
Maximum speed displayed is 299 km/h (186 mph).
Over 299 km/h (186 mph) the display will show a series of dashes "- - -" (steadily lit - not flashing).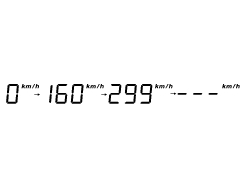 Speedometer. Gives road speed Rev counter. Indicates engine revs per minute. Clock. Water temperature indicator. Indicates engine coolant temperature. Important Stop riding if ...
This function displays the rpms. The dashboard receives the engine rpm information and displays it. This information is displayed progressively from the left to the right, identifying the rpms ...
Other materials:
Flywheel - alternator
Screw Alternator stator Plug Sealing ring O-ring Cover Screw Aluminium gasket Screw Bracket Locating bush Screw generator cover Flange Flanged nut Plane washer Flywheel Washer Inner ring Needle roller bearing Electric starter driven gear Starter clutc ...
Reassembly of the connecting rods
Before starting, check that the crankshaft main bearing journals and big-end journals are free of burrs or evident signs of machining: if necessary, clean the surfaces with very fine emery cloth and oil. Check that the grooves are in perfect condition with no signs of forcing. Clean the cra ...
Recovery procedure in the event of electric steering lock fault
If any fault occurs during activation of the electric steering lock: for example, if the pin jams, if the handlebar is moved while the pin is deployed or if there is excessive strain on the electric pin actuator motor, the electric steering lock is automatically disengaged and the hands free s ...