Ducati Diavel Service Manual: Stop light not working
Fault codes
Dds: stop light diagnosis -> stop light error (generic stop light malfunction indication).
Dashboard: the error "stop light" is shown on the service display. The eobd warning light activates.
Wiring diagram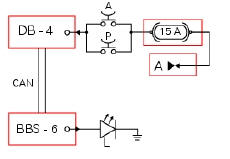 Db dashboard connection, bbs bbs unit connection, a front brake button, p rear brake button, l stop light. A key on power (+15 from hands free relay 30), db 4 grey/red - gr/r, the switch cable connected to a via the fuse is black - bk, bbs 6 grey/red - gr/r, ground on stop light, black - bk.
Location of connections and components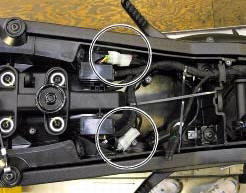 Rear running light and stop light connection.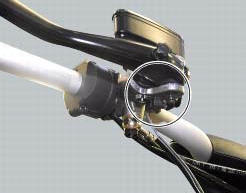 Front brake button mounted near lever operating brake pump.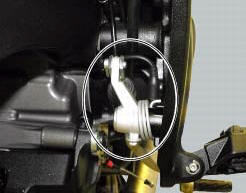 Rear brake button mounted near lever operating brake pump. The button is normally closed (when the brake lever does not press on the button because it has been pressed by enough to cause a braking effect, the contacts close, short circuiting the contacts).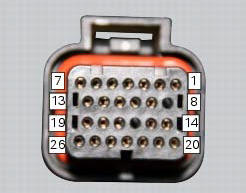 Pin numbering for wiring harness side dashboard connector.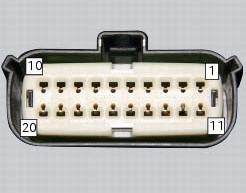 Pin numbering of wiring harness side bbs unit connection.
Fault codes Dds: displays a fault code described in the description of the abs system. Dashboard: no fault code displayed. Wiring diagram Checks The abs fault indicator indicates the occurr ...
Fault codes Dds: exvl diagnosis -> position error, potentiometer, short circuit to ground or open circuit (s.C. Gnd or c.O.), Potentiometer short circuited to vdc (potentiometer s.C vdc). Da ...
Other materials:
Operating principle of dtc
The bbs receives the front and rear speed information from the abs over the can. Then, the bbs sends the vehicle speed information to be displayed on the dashboard over the can. If the tangential speed of the rear wheel exceeds the tangential speed of the front wheel by a given percentage, t ...
Overhaul of the flywheel-alternator assembly
Examine the inner part of alternator rotor (24) for signs of damage. Check that the starter clutch is working properly and that the needle races do not show signs of wear or damage of any kind. If there is any malfunction, remove the whole assembly. Disassembling the generator flywheel U ...
Refitting the front forks
Refit the fork legs, positioning them at the height shown in the figure relative to the upper surface of the bottom yoke. Warning The difference in height between the two fork legs must be no greater than 0.1 Mm. Position the fork legs (5) and (6) on the yoke base (4) and on the steering ...