Ducati Diavel Service Manual: Stop light not working
Fault codes
Dds: stop light diagnosis -> stop light error (generic stop light malfunction indication).
Dashboard: the error "stop light" is shown on the service display. The eobd warning light activates.
Wiring diagram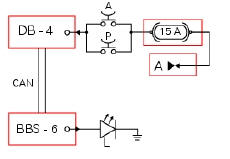 Db dashboard connection, bbs bbs unit connection, a front brake button, p rear brake button, l stop light. A key on power (+15 from hands free relay 30), db 4 grey/red - gr/r, the switch cable connected to a via the fuse is black - bk, bbs 6 grey/red - gr/r, ground on stop light, black - bk.
Location of connections and components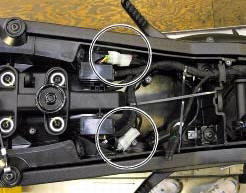 Rear running light and stop light connection.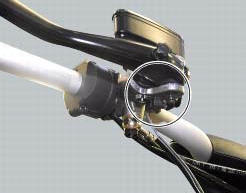 Front brake button mounted near lever operating brake pump.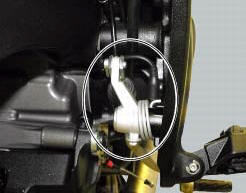 Rear brake button mounted near lever operating brake pump. The button is normally closed (when the brake lever does not press on the button because it has been pressed by enough to cause a braking effect, the contacts close, short circuiting the contacts).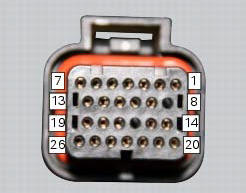 Pin numbering for wiring harness side dashboard connector.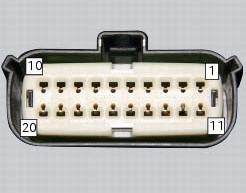 Pin numbering of wiring harness side bbs unit connection.
Fault codes Dds: displays a fault code described in the description of the abs system. Dashboard: no fault code displayed. Wiring diagram Checks The abs fault indicator indicates the occurr ...
Fault codes Dds: exvl diagnosis -> position error, potentiometer, short circuit to ground or open circuit (s.C. Gnd or c.O.), Potentiometer short circuited to vdc (potentiometer s.C vdc). Da ...
Other materials:
Checking and adjusting timing belt tension
Note The on-screen icons used during this procedure are explained in a table at the end of this section. Note This operation, which is performed using the dds diagnosis instrument, has the advantage that it can be carried out on both timing belts with the engine still installed on the frame. ...
How to reset the pin code
The pin code can be reset with the dds, i.E. It can be brought to the same condition it was in when the bike came out the factory. It is possible to complete the procedure with the relevant pin code reset function. Once the pin code has been reset it will be necessary to store a new one. In ...
On/off switch on handlebar
Introduction The on/off switch on the handlebar is used to switch the dashboard on and off, if a key has been detected, and start the engine. With the switch turned to "run off" (centre position), pushing downwards switches the dashboard on or off (activating the button inside the switch). ...