Ducati Diavel Service Manual: Stop light not working
Fault codes
Dds: stop light diagnosis -> stop light error (generic stop light malfunction indication).
Dashboard: the error "stop light" is shown on the service display. The eobd warning light activates.
Wiring diagram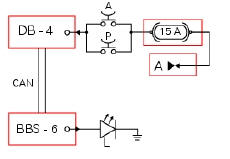 Db dashboard connection, bbs bbs unit connection, a front brake button, p rear brake button, l stop light. A key on power (+15 from hands free relay 30), db 4 grey/red - gr/r, the switch cable connected to a via the fuse is black - bk, bbs 6 grey/red - gr/r, ground on stop light, black - bk.
Location of connections and components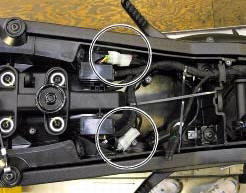 Rear running light and stop light connection.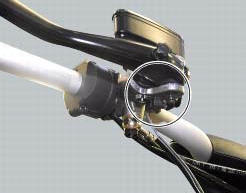 Front brake button mounted near lever operating brake pump.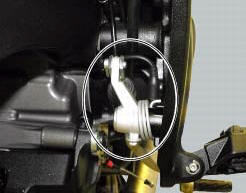 Rear brake button mounted near lever operating brake pump. The button is normally closed (when the brake lever does not press on the button because it has been pressed by enough to cause a braking effect, the contacts close, short circuiting the contacts).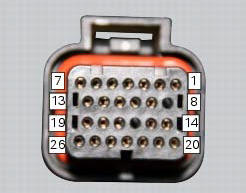 Pin numbering for wiring harness side dashboard connector.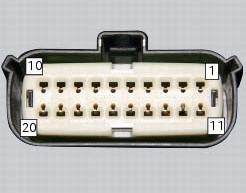 Pin numbering of wiring harness side bbs unit connection.
Fault codes Dds: displays a fault code described in the description of the abs system. Dashboard: no fault code displayed. Wiring diagram Checks The abs fault indicator indicates the occurr ...
Fault codes Dds: exvl diagnosis -> position error, potentiometer, short circuit to ground or open circuit (s.C. Gnd or c.O.), Potentiometer short circuited to vdc (potentiometer s.C vdc). Da ...
Other materials:
Rh switch
Red on/off switch. Black engine start button. The switch (1) has three positions: Centre: run off. In this position, the engine cannot be started and all electronic devices are off. Pushed down: on/off. In this position, the system can be turned on (key-on) and off (key-off). Pus ...
Removing the flywheel - generator assembly
Use the tool 88713.3367 Fixed to the m10 side stand fixing holes (d). Secure the tool to the flywheel with the screws (e). Unscrew the alternator-flywheel retaining nut (15). Warning While unscrewing the nut, apply axial pressure to the socket to avoid damage or injury in the event of the ...
Flexible wiring/hoses positioning
The routing of the abs wiring has been optimised to ensure the minimum obstruction. Each section is designed to prevent interference with parts that might damage wires or cause operating failures when riding. Table a Table b Table c ...