Ducati Diavel Service Manual: Wiring diagram colour codes
B blue
Bk black
Bn brown
G green
Gr grey
Lb light blue
O orange
P pink
R red
V violet
W white
Y yellow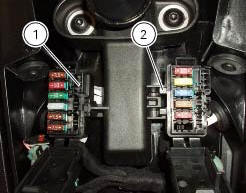 Rear left fuse box (1) key

Rear right fuse box (2) key

Right-hand handlebar switch Immobilizer Hands free relay Hands free Front fuse box Right fan Left fan Fan relay Fuel pump relay Ride-by-wire relay (etv) Injection control unit ( ...
The routing of the wiring has been optimised to ensure the minimum obstruction. Each section is designed to prevent interference with parts that might damage wires or cause operating failures w ...
Other materials:
Symbols - abbreviations - references
To allow quick and easy consultation, this manual uses graphic symbols to highlight situations in which maximum care is required, as well as practical advice or information. Pay attention to the meaning of the symbols since they serve to avoid repeating technical concepts or safety warnings th ...
Reassembly of the front half-fairings
Fit the clips (2) on the front rh half-fairing (1). Join the rh support (4) and the front rh half-fairing (1) and keep them in position by starting the screws (5). Note To mount the rh support (4) in a proper way, it is necessary to insert the tab (g) of the front rh half-fairing (1) in t ...
Removal of the gearchange control
Loosen and remove the pivot screw (4) securing the gearchange pedal (1) and recover the washer (9) and the o-ring Seals (5). Loosen and remove the screw (7) securing the gearchange lever (8) to the gear selector shaft. Withdraw the lever (8) complete with the gearchange control assem ...