Ducati Diavel Owners Manual: Checking brake and clutch fluid level
The levels should not fall below the min marks on the respective reservoirs.
If the level is too low, air can get into the circuit, thus impairing the efficiency of the system.
Brake and clutch fluid must be topped up and changed at the intervals specified in the scheduled maintenance table reported in the warranty booklet; please contact a ducati dealer or authorised service centre.

Important
It is recommended all brake and clutch lines be changed every four years.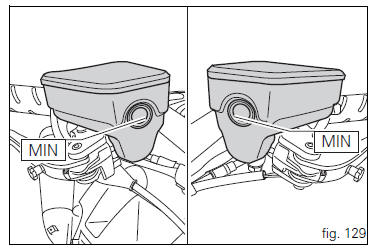 Brake system
If you find exceeding play on brake lever or pedal and brake pads are still in good condition, contact your ducati dealer or authorised service centre to have the system inspected and any air drained out of the circuit.

Warning
Brake and clutch fluid can damage paintwork and plastic parts, so avoid contact. Hydraulic fluid is corrosive and can cause damage and injuries. Never mix fluids of different qualities.
Check that the seals are in good condition.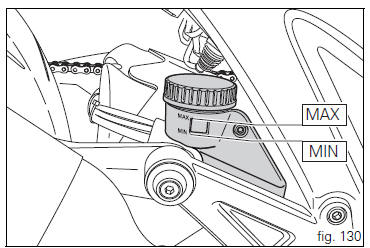 Clutch system
If the control lever has exceeding play and the transmission snatches or jams as you try to engage a gear, it means that there might be air in the circuit. Contact your ducati dealer or authorised service centre to have the system inspected and air drained out.

Warning
The clutch fluid level in the reservoir tends to rise as the friction material on the clutch plates wears out. Do not exceed the specified level (3 mm above the minimum level).
Check coolant level in the expansion tank on the right side of the vehicle. Steer the handlebar completely to the left and check that the level is between the min and max marks on the side of the ...
Check brake pads wear through the inspection hole in the callipers. Change both pads if friction material thickness of even just one pad is about 1 mm. Warning Friction material wear beyond th ...
Other materials:
Tips for use on the road
Activate the dtc, select level 8 and ride the motorcycle in your usual style; if the level of dtc intervention seems excessive, try reducing the setting to levels 7, 6, etc., Until you find the level that suits you best. If changes in the grip conditions and/or circuit characteristics and/or ...
Operations to be carried out by the dealer
List of operations to be performed at 1000 km Reading of the error memory with dds on the engine control units, vehicle and abs Change the engine oil Change the engine oil filter Check the indicators and lighting Check the safety devices (side ...
Setting menu
This menu is used to enable/disable and set some motorcycle functions. To access the "setting menu" press and hold button (2) "t" for 3 seconds. Note When within this menu no other function can be displayed. Important For safety reasons, the setting menu can only be accessed when motorcycle ...