Ducati Diavel Owners Manual: Adjusting the position of the gearchange and rear brake pedals
The position of the gearchange and rear brake pedals in relation to the footrests can be adjusted to suit the requirements of the rider.
Adjust the pedals as follows:
Gear change pedal (fig. 97) Hold the linkage (1) and slacken the lock nuts (2) and (3).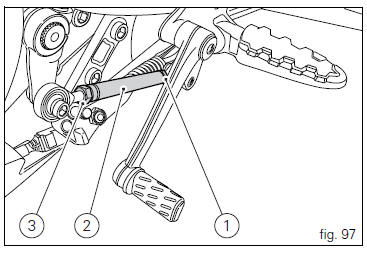 Note
Nut (2) has a left-hand thread.
Fit an open-end wrench to hexagonal element of linkage (1) and rotate until setting pedal in the desired position.
Tighten both check nuts onto linkage.
Rear brake pedal
Loosen counter nut (7).
Turn pedal stroke adjusting screw (6) until pedal is in the desired position.
Tighten the counter nut (7).
Operate the pedal by hand to check that there is 1.5 To 2 mm of freeplay before the brake bites.
If not, adjust the length of the master cylinder pushrod as follows.
Slacken off the counter nut (10) on the pushrod.
Screw the pushrod (8) into the front fork (9) to increase the freeplay, or screw it out to reduce it.
Tighten the counter nut (10) and recheck the pedal freeplay.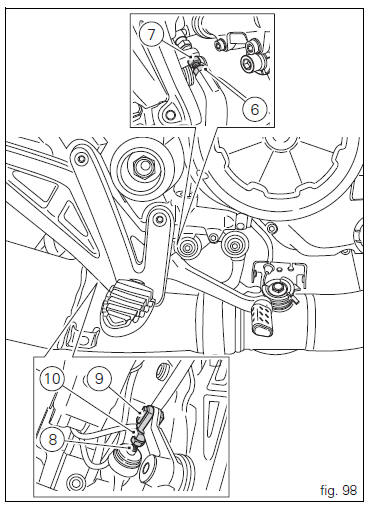 When released, the gear change pedal (1, fig. 96) Automatically returns to rest position n in the centre. This is indicated by the instrument panel light n (2, fig. 4) Coming on. The pedal can be ...
Other materials:
Checking brake and clutch fluid level
The levels should not fall below the min marks on the respective reservoirs. If the level is too low, air can get into the circuit, thus impairing the efficiency of the system. Brake and clutch fluid must be topped up and changed at the intervals specified in the scheduled maintenance table ...
Communication antenna
Introduction The communication antenna enables the hands free system to detect and communicate with the active or passive key. The active key is detectable within a range of 1.5 Metres, whereas the passive key (or active key with flat battery) can only be detected if placed in contact with ...
Brakes
Separate-action anti-lock brake system operated by hall-type sensors mounted to each wheel, with phonic wheel detection: abs can be disabled. Front Semi-floating drilled dual disc. Braking material: steel. Carrier material: aluminium. Disc diameter: 320 mm. Hydraulically operated ...