Ducati Diavel Owners Manual: Adjusting the position of the gearchange and rear brake pedals
The position of the gearchange and rear brake pedals in relation to the footrests can be adjusted to suit the requirements of the rider.
Adjust the pedals as follows:
Gear change pedal (fig. 97) Hold the linkage (1) and slacken the lock nuts (2) and (3).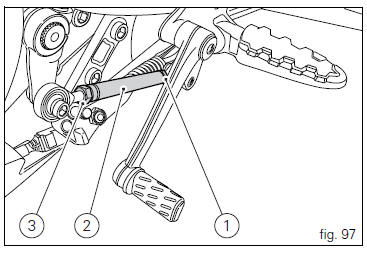 Note
Nut (2) has a left-hand thread.
Fit an open-end wrench to hexagonal element of linkage (1) and rotate until setting pedal in the desired position.
Tighten both check nuts onto linkage.
Rear brake pedal
Loosen counter nut (7).
Turn pedal stroke adjusting screw (6) until pedal is in the desired position.
Tighten the counter nut (7).
Operate the pedal by hand to check that there is 1.5 To 2 mm of freeplay before the brake bites.
If not, adjust the length of the master cylinder pushrod as follows.
Slacken off the counter nut (10) on the pushrod.
Screw the pushrod (8) into the front fork (9) to increase the freeplay, or screw it out to reduce it.
Tighten the counter nut (10) and recheck the pedal freeplay.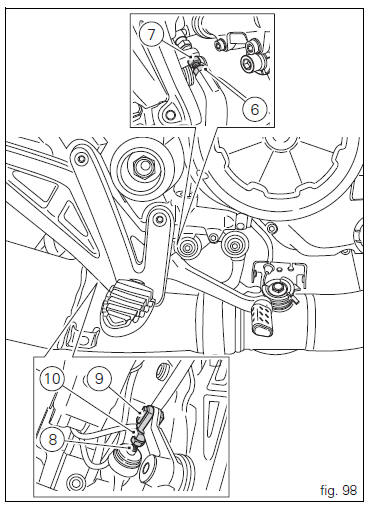 When released, the gear change pedal (1, fig. 96) Automatically returns to rest position n in the centre. This is indicated by the instrument panel light n (2, fig. 4) Coming on. The pedal can be ...
Other materials:
Removal of the intake manifold and coolant union
Loosen the clips (f) and remove the hoses (t). Remove the manifolds (25) undoing the screws (21). Loosen the clamp (a) and remove the hose (b). Remove the union (12) and recover the seal (24). ...
Vehicle speed indicator
this function displays vehicle speed (km/h or mph depending on the set measurement system). the instrument panel receives information about the actual speed and displays the number increased by 5%. maximum speed displayed is 299 km/h (186 mph). over 299 km/h (186 mph) a series of dashes w ...
Reassembling the water radiator unit
The procedure is the same for both radiators. Check the presence of clips (1) at the positions of the external coolant radiator cover (23). If removed, fit the front turn indicator (32) on the cover (23) and tighten the screws (27) to 2 nm +/- 10% (sect. 3 - 3, Frame torque settings). No ...