Ducati Diavel Owners Manual: Adjusting the rear shock absorber
The rear shock absorber has external commands that enable you to adjust the setting to suit the load on the motorcycle.
The adjuster (1, fig. 111) Located on the lower connection holding the shock absorber to the swingarm adjusts the damping during the rebound phase (return).
The knob (2, fig. 112), Located on the left side of the motorcycle, adjusts the preload of the shock absorber external spring.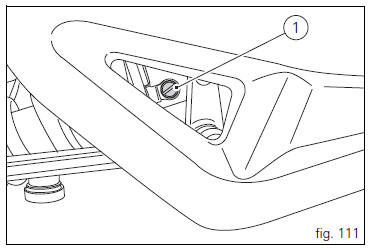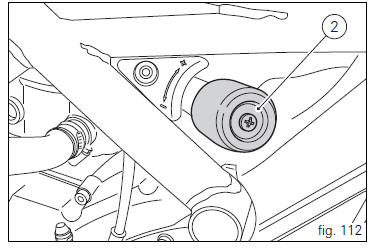 The knob (3, fig. 113) Located on the expansion reservoir of the shock absorber adjusts the damping during the compression phase.
Turning the adjusters (1) or the knobs (2) and (3) clockwise to increase preload damping; they decrease turning them in the opposite direction.
Standard setting; from fully closed (clockwise) loosen: adjuster (1, fig. 111) By 12 clicks; knob (2, fig. 112) Fully open (counter clockwise); adjuster (3, fig. 113) By 25 clicks.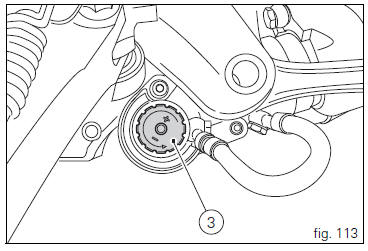 Warning
The shock absorber is filled with gas under pressure and may cause severe damage if taken apart by unskilled persons.
When carrying a passenger and luggage, set the rear shock absorber spring to proper preload to improve motorcycle handling and keep safe clearance from the ground. It may also be necessary to adjust the rebound damping accordingly.
Values specified in the table are indicative and refer to a rider
Weighing (with clothes on) 80-90kg and a passenger
Weighing (with clothes on) 70-80kg.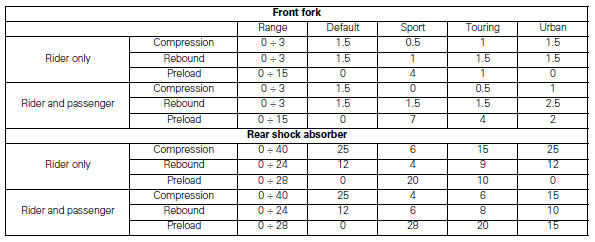 The front fork used on this motorcycle has rebound, compression and spring preload adjustment. The settings are adjusted using external adjuster screws. To adjust rebound damping (fig. 109); ...
Other materials:
Reassembly of the gearbox
To refit the gearbox components follow the procedure under sect. 9 - 9.2, Reassembly of the crankcase halves, relating to reassembly of the engine crankcase. As a final practical test, ensure that with the gearbox in neutral the front coupling dogs (a) of sliding gears (b) are equidistant o ...
Overhaul of the crankcase halves
Carefully examine the engine crankcase halves. Check that the surfaces of the crankcase halves are perfectly flat using a reference surface. Check that the bearings (1) and (18), and the bushings (2) and (17) are in optimum conditions. Note that the main bearings must always be changed in p ...
Appropriate diagnosis tools
97900.0211 Dds (ducati diagnosis system) without cables 97900.0227 Power cable and diagnosis 97900.0222 Power cable and diagnosis 1060838 (measurement module) 97900.0218 Vacuum sensor 552.1.039.1A Pressure sensor 97900.0220 Pressure/vacuum tube 97900.0221 Union ...