Ducati Diavel Owners Manual: Adjusting the rear shock absorber
The rear shock absorber has external commands that enable you to adjust the setting to suit the load on the motorcycle.
The adjuster (1, fig. 111) Located on the lower connection holding the shock absorber to the swingarm adjusts the damping during the rebound phase (return).
The knob (2, fig. 112), Located on the left side of the motorcycle, adjusts the preload of the shock absorber external spring.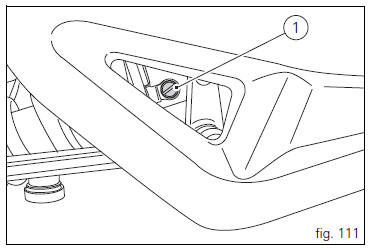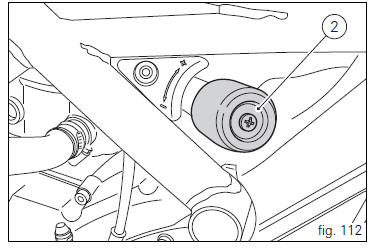 The knob (3, fig. 113) Located on the expansion reservoir of the shock absorber adjusts the damping during the compression phase.
Turning the adjusters (1) or the knobs (2) and (3) clockwise to increase preload damping; they decrease turning them in the opposite direction.
Standard setting; from fully closed (clockwise) loosen: adjuster (1, fig. 111) By 12 clicks; knob (2, fig. 112) Fully open (counter clockwise); adjuster (3, fig. 113) By 25 clicks.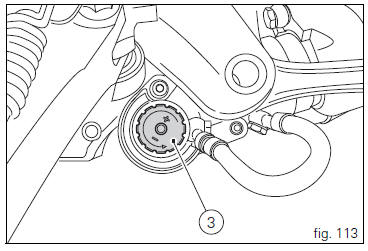 Warning
The shock absorber is filled with gas under pressure and may cause severe damage if taken apart by unskilled persons.
When carrying a passenger and luggage, set the rear shock absorber spring to proper preload to improve motorcycle handling and keep safe clearance from the ground. It may also be necessary to adjust the rebound damping accordingly.
Values specified in the table are indicative and refer to a rider
Weighing (with clothes on) 80-90kg and a passenger
Weighing (with clothes on) 70-80kg.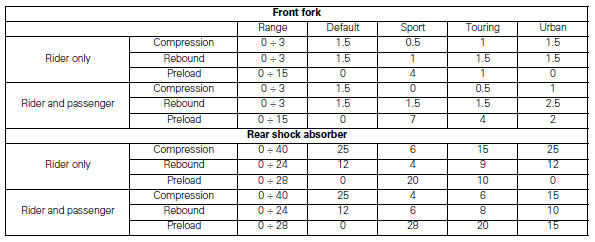 The front fork used on this motorcycle has rebound, compression and spring preload adjustment. The settings are adjusted using external adjuster screws. To adjust rebound damping (fig. 109); ...
Other materials:
Removal of the front forks
Before removing the front forks, it is first necessary to remove the following parts: Loosen the clamp screws (1) holding the fork legs to the steering head (3). Loosen the clamp screws (2) and (26) securing the fork legs to the bottom yoke (4). Withdraw the fork legs (5) and (6) downwar ...
Refitting the throttle twistgrip
Lubricate the ends of the throttle grip cables (10) and the twistgrip race with the recommended grease. The closing cable (10) features a writing on the yellow tube, whereas the opening one (10) features such writing on the white tube. To refit the throttle control components, proceed i ...
Storing the bike away
If the motorcycle is to be left unridden over long periods, it is advisable to carry out the following operations before storing it away: clean the motorcycle; empty the fuel tank; pour a few drops of engine oil into the cylinders through the spark plug bores, then turn the engine over by hand ...