Ducati Diavel Owners Manual: Adjusting the front fork
The front fork used on this motorcycle has rebound, compression and spring preload adjustment.
The settings are adjusted using external adjuster screws.
To adjust rebound damping (fig. 109);
To adjust spring preload (fig. 109);
To adjust compression damping (fig. 110).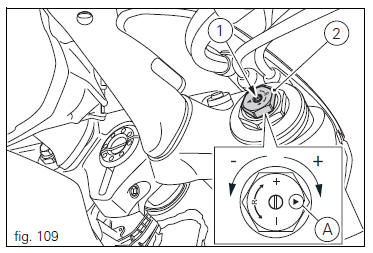 Park the motorcycle in a stable position on its side stand.
Turn the adjuster (1) on fork leg top with a flat screwdriver to adjust rebound damping.
Turn the adjuster (3) on fork leg bottom with a flat screwdriver to adjust compression damping.
Turn the adjusting screws (1 and 3) to adjust the dampening.
Turn the screw all the way in to set the hardest damping (position "0"). Starting from this position, turning anticlockwise, you can count the turns.
To change preload of the spring inside each fork leg, turn the hex. Adjuster (2, fig. 109) With a 22 mm hexagon wrench, starting from the fully open position (clockwise). From reference (a, fig. 109), Every full turn clockwise corresponds to 1 mm of preload of the spring, up to a maximum of 15 mm, corresponding to 3 full turns.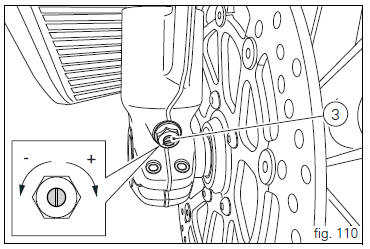 Standard settings, from fully open position, are as follows: compression: 1 and a half turns; rebound: 1 and a half turns.
Spring preload: fully open (anticlockwise).

Important
Adjust both fork legs to same settings.
Passenger grabhandle (1, fig. 107) Is located inside the tail guard; to take it out, remove the seat (see "removal of the seat" on page 119), pull the knob (2, fig. 107) While taking out ...
The rear shock absorber has external commands that enable you to adjust the setting to suit the load on the motorcycle. The adjuster (1, fig. 111) Located on the lower connection holding the shoc ...
Other materials:
Background setting function for the instrument panel on tank - dashboard 1
This function allows setting the "background" of the instrument panel on tank. To access the function it is necessary to view the "setting" menu page 48, using button (1, fig. 14) ?" " or (2, fig. 14) ?" " select the "back light" function a ...
Adjusting the chain tension
Make the rear wheel turn until you find the position where chain is tightest. Set the vehicle on the side stand. Push down the chain at the point of measurement and release. Measure the distance between the "aperture" upper profile and pin centre. The read distance must be: 9 to 11 mm. ...
Indicator air - air temperature
This function shows the external temperature. Display limits: -39C - +124C In the event of a sensor fault (-40C, +125C or disconnected), a string of dashes "- - -" (not flashing) is displayed and the "vehicle/engine diagnosis - eobd" light comes on. Note When the vehicle is stopped, the ...