Ducati Diavel Owners Manual: Charging and maintenance of the battery during winter Storage
Your motorcycle is equipped with a connector (1, fig. 147) To which you can connect a special battery charger available from our sales network.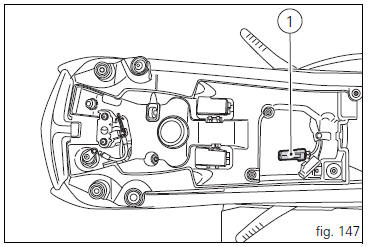 Before charging the battery, it is recommended to remove it from the motorcycle. Important The battery is housed in the cowling, always contact a ducati dealer or an authorised service centre for ...
Important Have chain tension adjusted by a ducati dealer or authorised service centre. Make the rear wheel turn until you find the position where chain is tightest. Set the vehicle on the side ...
Other materials:
Water radiators
Clip nut Spacer Vibration damper mount Screw Screw Spacer Vibration damper mount Clip nut Bush Spacer Rear sprocket Screw Water radiator (right) Screw Screw Air deflector (right) Special screw Electro-fan Screw Vibration damper mount Screw Plug Half ...
Disassembly of the oil pump
Hold the oil pump (1) in a vice taking care not to damage the drive gear (12). Warning Make sure that vice jaws are faced with soft material. Remove the plug (14) and extract the spring (16) and by-pass valve (17). Check the condition of the above components. Remove the circlip (6) ...
Resetting turn indicators not possible - accessing dashboard menu not possible
Fault codes Dds: no fault code displayed Dashboard: no fault code displayed Location of connections and components Location of left hand handlebar switchgear set connection. Pin numbering for wiring harness side dashboard connector. Checks Test turn indicator reset button function. Wh ...