Ducati Diavel Owners Manual: Cleaning and replacing the spark plugs
Spark plugs are essential to smooth engine running and should be checked at regular intervals.
The condition of the spark plugs provides a good indication of how well the engine is running.
Have the spark plugs inspected or replaced at a ducati dealer or authorised service centre; they will check the colour of the ceramic insulator of the central electrode (1): an even brown colour is a sign that the engine is in good running order.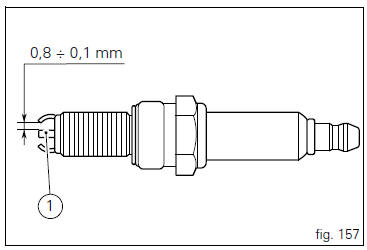 Note
Inspect the centre electrode for wear and check spark plug gap, which should be: 0.8×0.1 Mm.

Important
A gap outside the specified limits will adversely affect engine performance and may lead to difficult starting or erratic idling.
Check the engine oil level through the sight glass (1) on the clutch cover. When checking oil level, the motorcycle should be perfectly upright and the engine cold. The oil level should be between ...
To preserve the finish of metal parts and paintwork, wash and clean your motorcycle at regular intervals, anyway according to the road conditions you ride in. Use specific products, where possible ...
Other materials:
Recovery procedure with no key
When the dashboard is on and the key has been recognised, the hands free attempts to detect the key every 60 seconds. If the engine is off and the on/off switch on the handlebar is turned to "run off", if no key is detected within 10 seconds, the dashboard switches off automatically. If t ...
Checking the idle speed
Check that the bike is provided with electronic control unit, oem intake and exhaust systems, otherwise fit original components. Connect the inserts of the exhaust gas analyser code 88713.1010 To the outlets on the exhaust pipes, using the fittings (1). Warning Make sure that the thro ...
Adjusting of the air-gap phonic wheel sensor
(For front as well as rear sensor) in each case of maintenance that foresees: Replacement or refitting of the wheel Replacement or refitting of the phonic wheel (1) or (2) Replacement or refitting of the brake discs Replacement or refitting of the speed sensor (3) or (4) (Front) replacem ...