Ducati Diavel Owners Manual: Cleaning and replacing the spark plugs
Spark plugs are essential to smooth engine running and should be checked at regular intervals.
The condition of the spark plugs provides a good indication of how well the engine is running.
Have the spark plugs inspected or replaced at a ducati dealer or authorised service centre; they will check the colour of the ceramic insulator of the central electrode (1): an even brown colour is a sign that the engine is in good running order.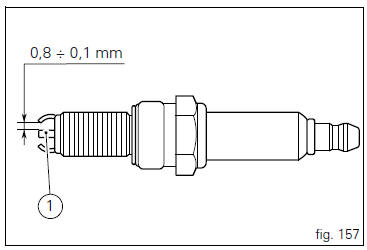 Note
Inspect the centre electrode for wear and check spark plug gap, which should be: 0.8×0.1 Mm.

Important
A gap outside the specified limits will adversely affect engine performance and may lead to difficult starting or erratic idling.
Check the engine oil level through the sight glass (1) on the clutch cover. When checking oil level, the motorcycle should be perfectly upright and the engine cold. The oil level should be between ...
To preserve the finish of metal parts and paintwork, wash and clean your motorcycle at regular intervals, anyway according to the road conditions you ride in. Use specific products, where possible ...
Other materials:
Passenger grabhandle
Passenger grabhandle (1, fig. 107) Is located inside the tail guard; to take it out, remove the seat (see "removal of the seat" on page 119), pull the knob (2, fig. 107) While taking out the grabhandle (1, fig. 107) From its housing until it is fully extended. Warning Before use, pu ...
Guided diagnosis
Note The on-screen icons used during this procedure are explained in a table at the end of this section. The dds diagnosis instrument guides the operator step-by-step through the various diagnostic procedures, providing descriptions and documentation for motorcycle components, wiring diagra ...
Removing of the rear wheel
Place the motorcycle on the rear service stand and engage the 1st gear. Remove the clip (6). Using a suitable socket wrench, loosen the wheel nut (1). Fully unscrew the nut (1), then remove the washer (2) and the spacer (3). Remove the rear wheel from the motorcycle. ...