Ducati Diavel Owners Manual: Checking engine oil level
Check the engine oil level through the sight glass (1) on the clutch cover. When checking oil level, the motorcycle should be perfectly upright and the engine cold. The oil level should be between the two marks next to the sight glass. If level is low, top up with shell advance ultra 4 engine oil. Remove the filler plug (2) and top up to correct level. Replace the filler cap.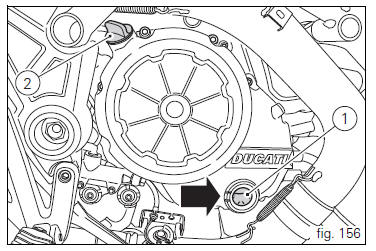 Important
Engine oil and oil filters must be changed by a ducati dealer or authorised service centre at the intervals specified in the scheduled maintenance table reported in the warranty booklet.
Viscosity
Sae 15w-50
The other viscosity values shown in the table can be used if the local average temperature falls within the limits specified for that oil viscosity.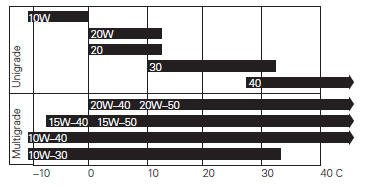 Front tyre pressure: 2.50 Bar (rider only) - 2.6 Bar (with passenger and/or bags) rear tyre pressure: 2.50 Bar (rider only) - 2.6 Bar (with passenger and/or bags) as tyre pressures are affected by ...
Spark plugs are essential to smooth engine running and should be checked at regular intervals. The condition of the spark plugs provides a good indication of how well the engine is running. Ha ...
Other materials:
Gearchange mechanism
Gearchange pedal Bush Rubber pad Pin O-ring Gearchange lever tie-rod Screw Gearchange lever Washer Screw Ball joint Nut Nut Nut with left-hand thread Lh ball joint Spare parts catalogue Diavel abs l.H. Footrests Diavel carbon abs l.H. Footrests Important B ...
Reassembling the frame and the lateral footrests
Apply the recommended grease to the thread of the pins (9) and of the nuts (8). Place the frame (1) and the brackets (2) and (3) on the engine block. Start the pins (9) by holding the nuts (8) and insert without tightening the screws (6) into the adjusters (4). Position and fix the rear s ...
Refitting the airbox and throttle body
Position the filter box (1). Operate on the vehicle lh side, connect connector (f) of the tps/div motor. Operating on the right side of the vehicle, connect connector (e) from the aps sensor. Check for the vibration dampers (20) on the map sensor supporting bracket (19). Insert t ...