Ducati Diavel Service Manual: Dashboard
Note
The dashboard is supplied as a single component; its internal components cannot be renewed separately.
Important
Whenever the dashboard is renewed, the ignition key programming procedure must be repeated.
Loosen the nuts (2) to remove the master dashboard (1) from its seat and disconnect the connector (a) of the main wiring.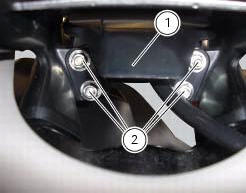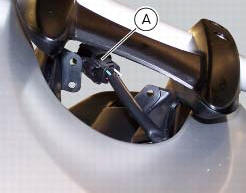 To remove the slave dashboard (3) remove the front tank fairing as indicated in sect. 5 - 2, "Removal of the fuel tank fairings".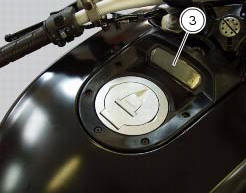 Refitting is the reverse of removal; be sure to check that the dashboard is mounted on its support with the screws (4) tightened to a torque of 3 nm +/- 10% (sect. 3 - 3, Frame torque settings).
Check the presence of clips (5) and stud bolts (6) with washers (7). The stud bolts (6) must be tightened to a torque of 2 nm +/- 10% (sect. 3 - 3, Frame torque settings).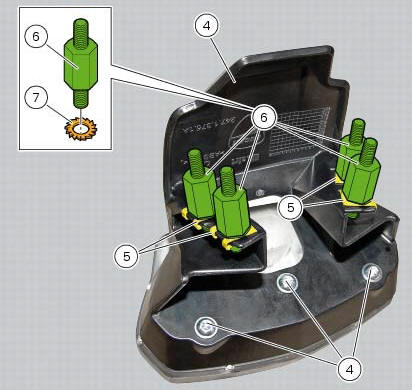 Tighten the nuts (2) to a torque of 3 nm +/-10% (sect. 3 - 3, Frame torque settings).
The vehicle is equipped with two dashboards: an lcd (1) located on the handlebar containing the key indications (speed, rpm, engine coolant temperature, and clock) and a tft colour display (2) loca ...
Other materials:
How to turn the motorcycle off
To turn the motorcycle off, turn the switch from "run on" to "run off". The engine stops. To switch the dashboard off, push the on/off switch downwards. When released, the switch automatically returns to the "run off" position. Push the switch downwards to switch the engine off and enter " ...
Passive key
Introduction The passive key (1) is used when the active key is not working correctly or is not available. The passive key works as a transponder, and must therefore be placed physically onto the antenna to work. The mechanical part (2) of the key is used to open the seat or the tank plug ...
Removal of the front wheel
Support the bike so that the front wheel is raised from the ground. Remove the front brake calliper (b) by unscrewing the two screws (a) securing the calliper to the fork leg; do not disconnect the calliper from the hose. Warning Do not operate the brake lever when the callipers are ...