Ducati Diavel Service Manual: Description of the clutch assembly
The clutch is disengaged by a drive unit consisting of a thrust piston (c) accommodated inside a small cap mounted to the generator cover. This piston (c) pushes a pushrod (b), which runs through gearbox primary shaft and operates the Pressure plate (4) located on top of the clutch plate pack (9).
Drive is transmitted from the crankshaft to the gearbox primary shaft by a gear integrated with the clutch housing/primary drive gear pair (a).
Accommodated in the clutch housing is a set of drive and driven plates (9). When the clutch is operated, the driven plates push away a drum (12) which is splined onto the gearbox primary shaft.
Before working on the internal clutch parts, check that the clutch operates correctly. Then deal with the problem in a systematic manner.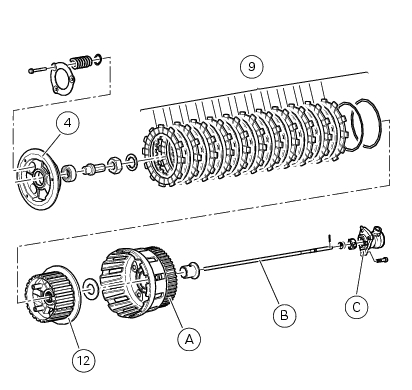 The following is a list of possible causes of clutch malfunctions.
A clutch which does not disengage may be caused by:
Excessive play of the control lever;
Distorted clutch plates;
Incorrect spring tension;
Faulty clutch release mechanism;
Excessive wear of the hub or clutch drum.
A clutch which slips may be caused by:
Insufficient play of the control lever;
Insufficient play of the control lever;
Weakened springs;
Faulty clutch release mechanism;
Excessive wear of the hub or clutch drum.
A noisy clutch may be caused by:
Excessive backlash between the primary drive gears;
Damaged primary drive gear teeth;
Excessive play between friction plate tabs and the clutch drum;
Worn gear/clutch drum bearings;
The presence of metal particles (filings) on the gear teeth.
Screw Ring Clutch spring Pressure plate Bearing Circlips Nut Belleville washer Clutch plates Belleville washer Flat ring Clutch centre Spacer Clutch lifter Spare pa ...
Note For clarity, the figures show the engine removed from the frame. Undo the fixing screws (1) and remove the ring (2) and the springs (3) from the pressure plate (4). Slide the pre ...
Other materials:
Riding mode set indication
This function indicates the "riding style" set for the vehicle. Three "riding modes" are available: sport, touring and urban. Each riding mode can be changed using the "riding mode" function. Note The background of the riding mode (sport, touring or urban) is blue (1) if currently set ridi ...
Removal of the gear selector lever
Unscrew and remove the fixing screws (18) and (20) of the complete gear selector lever (21) and collect the spacer (19). Remove the gearchange mechanism complete with the shaft, spring, and stop plate. Important Visually inspect the gear selector claw (14) for wear, particularly aroun ...
Disassembly of the generator cover
Undo the three stator retaining screws (25) and the two retaining screws (9) of the two cable grommet bracket (10) from inside the generator cover. Remove the stator (2) and the cable grommet bracket (10). The generator-side crankcase cover is fitted with a bearing (27), held in pla ...