Ducati Diavel Service Manual: Reassembly of the clutch-side crankcase cover
Fit the plug (14) and the gasket (13). Fit the plug (17) and the gasket (15).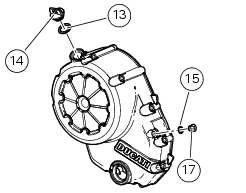 If the bush has been replaced, fully seat the new bush (7) in the slot in the cover using a suitable drift and a press.
If the sealing ring (8) needs to be renewed, fit the new seal into the crankcase cover, positioning it so the side without a spring is facing the circlip (10).
Before fitting, check that the edges of the circlip groove show no sign of burrs which might otherwise damage the sealing ring.
Then fit the shim (9) and the circlip (10).
Important
In order for the sealing ring (8) to function correctly, it must have an assembly clearance that allows the circlip (10) to rotate.
Place the soundproofing panel (18) inside the clutch cover (1).
Position the inner cover (19) on the panel (18), aligning it with the pin (d).
Apply the recommended threadlocker to the screw (16) tighten the retaining screw (16) to a torque of 24 nm (min. 22 Nm - max. 26 Nm) (sect. 3 - 3, Engine torque settings).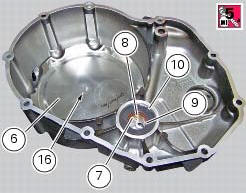 Remove the plug (14) and its o-ring (13), the plug (17) and its o-ring (15) from the cover. Undo the fixing screw (16) of the inner cover (19). Remove the inner cover (6) and soundproofing p ...
Clean and degrease mating surfaces on the clutch-side crankcase half cover and crankcase and ensure that locating bush (12) and the o-ring (11), located in correspondence with the oil way, are in ...
Other materials:
Headlight aim
The motorcycle must be perfectly upright with the tires inflated to the correct pressure and with a rider seated, perfectly perpendicular to the longitudinal axis. Position the motorcycle 10 metres from a wall or a screen. On the wall or surface, draw a horizontal line at the same height fr ...
Using a multimeter to check the electrical systems
Introduction This instrument allows you to measure resistance, voltages, and current values. Multimeters can be divided into two basic types: analogue and digital display multimeter. An analogue multimeter has a pointer display. The dial is marked with the scales to be used for measurement of ...
Engine
Twin cylinder, four-stroke, 90 "l" type, longitudinal, with deep sump die-cast crankcase. Bore, mm: 106 Stroke, mm: 67.9 Total displacement, cu. Cm: 1198 Compression ratio: 11.5В±0.5:1 Max power at crankshaft (95/1/ec), kw/hp: 119 kw/162 hp at 9,500 rpm Max torque at crankshaf ...