Ducati Diavel Service Manual: Reassembly of the clutch-side crankcase cover
Fit the plug (14) and the gasket (13). Fit the plug (17) and the gasket (15).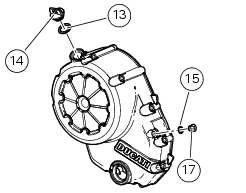 If the bush has been replaced, fully seat the new bush (7) in the slot in the cover using a suitable drift and a press.
If the sealing ring (8) needs to be renewed, fit the new seal into the crankcase cover, positioning it so the side without a spring is facing the circlip (10).
Before fitting, check that the edges of the circlip groove show no sign of burrs which might otherwise damage the sealing ring.
Then fit the shim (9) and the circlip (10).
Important
In order for the sealing ring (8) to function correctly, it must have an assembly clearance that allows the circlip (10) to rotate.
Place the soundproofing panel (18) inside the clutch cover (1).
Position the inner cover (19) on the panel (18), aligning it with the pin (d).
Apply the recommended threadlocker to the screw (16) tighten the retaining screw (16) to a torque of 24 nm (min. 22 Nm - max. 26 Nm) (sect. 3 - 3, Engine torque settings).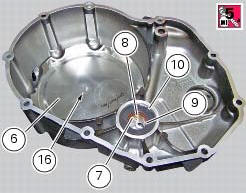 Remove the plug (14) and its o-ring (13), the plug (17) and its o-ring (15) from the cover. Undo the fixing screw (16) of the inner cover (19). Remove the inner cover (6) and soundproofing p ...
Clean and degrease mating surfaces on the clutch-side crankcase half cover and crankcase and ensure that locating bush (12) and the o-ring (11), located in correspondence with the oil way, are in ...
Other materials:
Checking the idle speed
Check that the bike is provided with electronic control unit, oem intake and exhaust systems, otherwise fit original components. Connect the inserts of the exhaust gas analyser code 88713.1010 To the outlets on the exhaust pipes, using the fittings (1). Warning Make sure that the thro ...
Removal of the front footrests
Note The removal of the front footrests is described only for the right one (2) but it is the same also for the left one. Remove the circlip (5) by releasing the pin (3). Slide the pin (3) off the frame by supporting the footrest (2). Slide off the footrest (2) from its seat and collect th ...
Digital rpm indication function
This function displays the number of rpms for improved accuracy when setting idle rpm. To access the function it is necessary to view the ""setting" menu", using buttons (1) "s" or (2) "t" select the "rpm" function and press the reset button (3) to confirm. The display shows the numerical v ...