Ducati Diavel Service Manual: Reassembly of the clutch-side crankcase cover
Fit the plug (14) and the gasket (13). Fit the plug (17) and the gasket (15).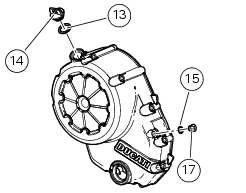 If the bush has been replaced, fully seat the new bush (7) in the slot in the cover using a suitable drift and a press.
If the sealing ring (8) needs to be renewed, fit the new seal into the crankcase cover, positioning it so the side without a spring is facing the circlip (10).
Before fitting, check that the edges of the circlip groove show no sign of burrs which might otherwise damage the sealing ring.
Then fit the shim (9) and the circlip (10).
Important
In order for the sealing ring (8) to function correctly, it must have an assembly clearance that allows the circlip (10) to rotate.
Place the soundproofing panel (18) inside the clutch cover (1).
Position the inner cover (19) on the panel (18), aligning it with the pin (d).
Apply the recommended threadlocker to the screw (16) tighten the retaining screw (16) to a torque of 24 nm (min. 22 Nm - max. 26 Nm) (sect. 3 - 3, Engine torque settings).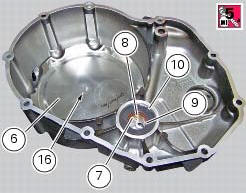 Remove the plug (14) and its o-ring (13), the plug (17) and its o-ring (15) from the cover. Undo the fixing screw (16) of the inner cover (19). Remove the inner cover (6) and soundproofing p ...
Clean and degrease mating surfaces on the clutch-side crankcase half cover and crankcase and ensure that locating bush (12) and the o-ring (11), located in correspondence with the oil way, are in ...
Other materials:
Removal of the licence plate holder
Disconnect connector (5) of the number plate holder wiring from the main one. Release the number plate holder light cable from the ties and the cable grommets as indicated in sect- 7 - 6, flexible wiring/hoses positioning, since the cable is together with the rear abs sensor cable. ...
Refitting the evaporative emissions canister
To refit, carry out the removal operations in reverse order, making sure to locate the hoses as shown in the figures at the end of the chapter. Positioning the hoses / clamps and canister filter ...
Instrument panel diagnosis
This function identifies any abnormal vehicle behaviours. The instrument panel activates any abnormal vehicle behaviours in real time (errors). At key-on (at the end of the check) one or more "errors" are displayed in red (only if they are active). When an "error" is t ...