Ducati Diavel Owners Manual: Helmet cable

Note
Helmet cable (2, fig. 104) Can be found inside the tool kit, see "tool kit and accessories" on page 141.
Pass the cable through the helmet and insert the end of the cable in the pin (3, fig. 104). Leave the helmet hanging and refit the seat to hold it in place.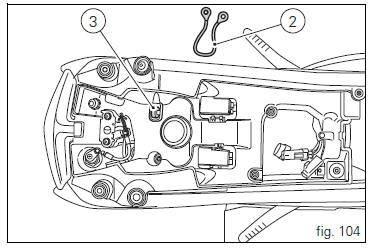 Warning
This device protects the helmet against theft when the motorcycle is parked. Do not leave the helmet attached when riding the motorcycle; it could interfere with your movements and cause loss of control of the motorcycle.
Insert the active or passive key in the lock (1, fig. 102), Turn it clockwise and simultaneously apply downward pressure in the area of the catch to release the pin. Pull the seat backwards to rele ...
Make sure all parts are correctly arranged and secured in the underseat compartment. Insert the mounts (4) of the seat base in the projecting parts (5) of the frame, then push the rear end of the s ...
Other materials:
Renewal of the cooling fan
Loosen the electro-fan retaining screws (15) and (17) and remove the electro-fan (18) from the radiator. Carry out the same procedure for the other radiator's electro-fan. On refitting, position the coolant radiator fan (18) as shown on the fan support (16), so that the three fan holes mat ...
Absolute pressure sensors
Introduction The engine control system of the diavel is equipped with two absolute pressure sensors, with one connected to the intake duct of each cylinder (map 1 cylinder 1 - horizontal - map 2 cylinder 2 - vertical). They are used by the control unit to determine the quantity of fuel to be ...
Removing the valves
Raise the rocker arm (3) and remove the opening shim (5) from the valves with a pair of pliers. Push down the closing rocker arms (16) and (4) and the closing shim (7). Remove the half rings (6) from the valves with a magnetic screwdriver. Extract the closing shims (7) from the valve ...