Ducati Diavel Service Manual: Location of elements on motorcycle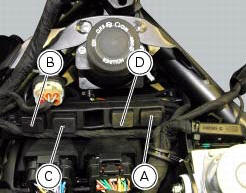 (A) injection relay; (b) etv relay (throttle valve operating engine); (c) radiator fan relay; (d) hands free relay.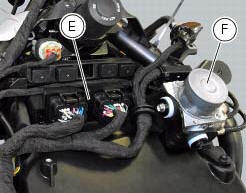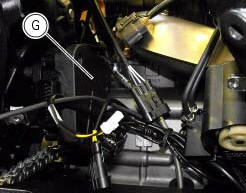 (E) ecu; (g) bbs (black box system or central electronics); (f) abs hydraulic unit with integrated control unit.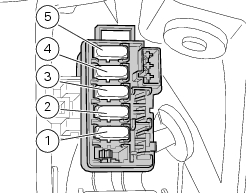 Fuses located at the rear left of the vehicle.
(1) 10A dashboard; (2) 5a engine control unit; (3) 15a key-sense; (4) 20a injection relay; (5) 15a throttle opening relay (etv).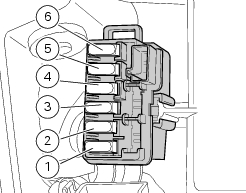 Fuses located at the rear right of the vehicle.
(1) 7.5A black box system (bbs); (2) navigator; (3) 25a abs 2; (4) 30a abs 1; (5) 10a fans; (6) 7.5A
Diagnosis/recharge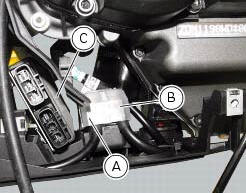 (A) starter motor relay; (b) main fuse (30a).
The voltage regulator (c) is mounted on the electrical components support.
The front and rear running lights consist of led units with light conduits. As a result, the light source is not visible as the light is diffused through the surface of the light conduit. ...
Other materials:
Checking valve lift
Set the engine to the configuration described for the "checking and adjusting the valve clearances", previously indicated. Position the tool 88765.1518 On the cylinder head: the part marked "a" should be on the intake side and the part marked "s" should be on the exhaust side. Seat the pl ...
Changing bulbs
Changing the headlight bulbs Before replacing a burnt out light bulb, ensure that the replacement bulb has the same voltage and power rating as specified for the lighting device in question (sect. 3 - 1.1, Lights/instrument panel). Warning The halogen light bulbs in the headlight become hot ...
Clutch lever button
Introduction The clutch button is located on the clutch lever. Together with the signal from the side stand button and the neutral signal generated by the gear sensor (transmitted to the engine control unit over the can line), the clutch lever position signal is used to enable or disable engi ...