Ducati Diavel Owners Manual: Passenger grabhandle
Passenger grabhandle (1, fig. 107) Is located inside the tail guard; to take it out, remove the seat (see "removal of the seat" on page 119), pull the knob (2, fig. 107) While taking out the grabhandle (1, fig. 107) From its housing until it is fully extended.

Warning
Before use, pull back and forth to ensure that it is locked in the correct position.
To withdraw it, pull knob (2, fig. 107), Push grabhandle (1, fig.
107) In its housing until it is completely flush with the tail guard (fig. 108) And refit the seat (see "refitting the seat" on page 121).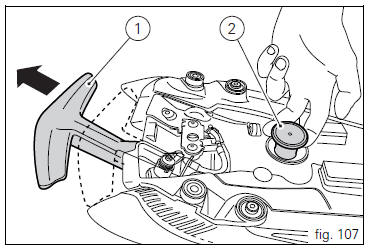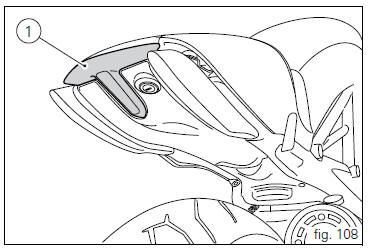 Important Before lowering the side stand, check that the ground is sufficiently even and firm. Do not park on soft or pebbled ground or on asphalt melted by the sun heat and similar or the motorc ...
The front fork used on this motorcycle has rebound, compression and spring preload adjustment. The settings are adjusted using external adjuster screws. To adjust rebound damping (fig. 109); ...
Other materials:
Gear indicator display on dashboard shows dashes, engaged gear not displayed correctly, idle speed irregular with gearbox in neutral
Fault codes Dds: gear sensor diagnosis -> short circuit to ground or open circuit (s.C. Gnd or c.O.) - Short circuit to vdc (s.C. Vdc) - congruence (generic error - signal not correct). Dashboard: the error "gear sensor" is shown on the service display. The eobd warning light activates. ...
Lh switch
Dip switch, light dip switch, two positions (fig. 89): (A) every time pressed down light switches from low beam on to low beam and high beam on . (B) pushed to the side = high beam flasher (flash), "start-stop lap" function. Button = three-position turn indicator ...
Headlight control
This function allows you to reduce current consumption from the battery, by automatically managing headlight switchingoff. At key-on, the high beam and low beam lights are off. When the engine is started, the low beam lights turn on automatically; from this moment, "normal" operati ...