Ducati Diavel Service Manual: Removal of the air filters


Work on the vehicle right side, loosen screws (3) that secure the intake duct (2) to the airbox, and the radiator retaining screw (a); recover the washer (b).
Remove the intake duct (2).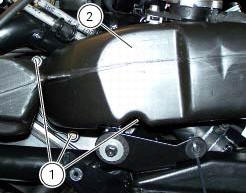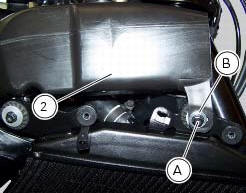 Proceed in the same way to remove the lh intake duct (6), and disconnect the connector (c) of the air temperature sensor (4).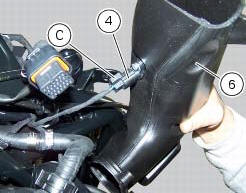 Pull out the filter cartridge (1) from the seat in the airbox.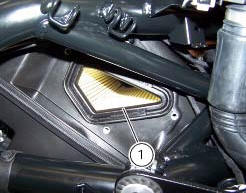 Air filter Right air duct Screw Air temperature sensor Screw Left air duct Sealing washer Threaded insert Spacer Clamp Breather hose Spare parts catalogue Diavel abs air ...
Apply universal sealant in the air duct (2) and (6) groove (d). Fit seal (7) in the groove (d) having care to place it correctly in the relevant seat so as to avoid abnormal wrinkles. Pull o ...
Other materials:
Bleeding of the abs hydraulic system
If some "sponginess" is detected on the brake control, due to air bubbles in the system, bleed the system, as indicated in sect. 4 - 3, Changing the brake fluid. Before bleeding a brake pump, move back the calliper pistons, as indicated in (sect. 4 - 3, Changing the brake fluid) to Drain in ...
Checking protection and safety device components
Checking the side stand switch Remove the switch (1) from the side stand undoing screw (2) and disconnect the main wiring connector from the switch (see paragraph "routing of wiring on frame", sect. 6 - 1). Use an analogue or digital multimeter (sect. 6 - 11, Using a multimeter to check the ...
Resetting turn indicators not possible - accessing dashboard menu not possible
Fault codes Dds: no fault code displayed Dashboard: no fault code displayed Location of connections and components Location of left hand handlebar switchgear set connection. Pin numbering for wiring harness side dashboard connector. Checks Test turn indicator reset button function. Wh ...