Ducati Diavel Service Manual: Removal of the primary drive gear

Withdraw the clutch housing (1) complete with driven gear of the primary pair (a).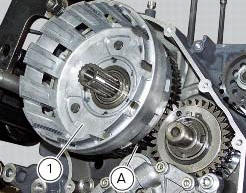 Remove the inner spacer (2).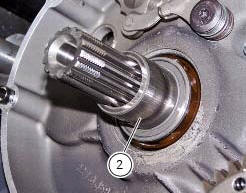 Remove the oil pump (d) (sect. 9 - 2.1, Removal of the oil pump).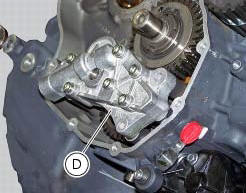 Lock the primary pinion (b) with the holding tool 88713.3417 And loosen the threaded ring nut (3) using the bush part no. 88713.3406.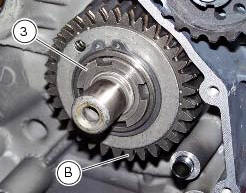 Remove the nut (3) and safety washer (4).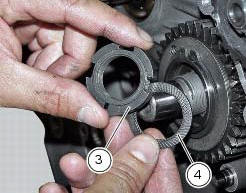 Remove the complete primary drive gear (b) using a commercial puller and placing a brass or aluminium pad between the end of the crankshaft and the puller screw.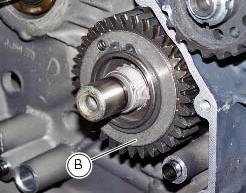 Remove the spacer (c).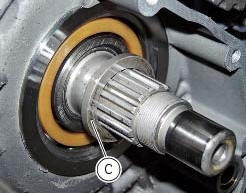 Clutch drum/primary drive gears Spacer Threaded ring nut Lock washer Spare parts catalogue Diavel abs clutch Diavel abs connecting rods Diavel carbon abs clutch Diavel carbon ab ...
Fully degrease the crankshaft splined end and the corresponding spline on the primary drive gear. Position the spacer (c) onto the crankshaft. Fit the driving gear (b) onto the crankshaft wi ...
Other materials:
Helmet cable
Note Helmet cable (2, fig. 104) Can be found inside the tool kit, see "tool kit and accessories" on page 141. Pass the cable through the helmet and insert the end of the cable in the pin (3, fig. 104). Leave the helmet hanging and refit the seat to hold it in place. Warning Th ...
Disassembly of the gearbox shafts
Place the shaft in a vice in such a way as to facilitate the disassembly operations. Important Take care not to invert the positions of the shims on reassembly: this would potentially lead to jamming when using the gear selector control, making it necessary to reopen the engine crankcase. D ...
Gearbox shafts
Shim, thickness 1 Gearbox primary shaft Shim, thickness 0.5 Needle roller bearing 5Th speed driving gear Splined washer, thickness 0.5 Circlip 3Rd- 4th speed driving gear 6Th speed driving gear 2Nd speed driving gear Shim, thickness 1.8 Splined washer, thickness 0.5 Sp ...