Ducati Diavel Owners Manual: Replacing the high and low beam bulbs
Before replacing a burnt-out bulb, make sure that the new bulb complies with the voltage and wattage specified in the "wiring diagram", page 179. Always test the new bulb before refitting any parts you have removed.
Fig. 150 Shows the locations of the low beam bulbs (lo), high beam bulbs (hi) and the parking light bulb (1).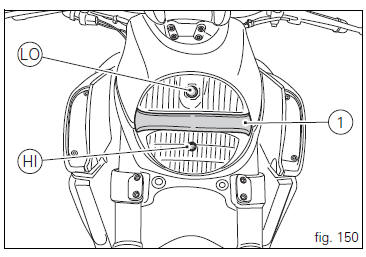 Headlight

Important
Have the high and low beam bulbs replaced by a ducati dealer or an authorised service centre.

Warning
The headlight might fog up if the vehicle is used under the rain or after washing.
Switch headlight on for a short time to dry up any condensate.
The chain fitted on your motorcycle has o-rings that keep dirt out of and lubricant inside the sliding parts. So as not to damage these seals when cleaning the chain, use special solvents and avo ...
When checking beam setting, put the motorcycle upright. Tyres should be inflated at the correct pressure and one person should be sitting astride the motorcycle, keeping it at right angles to its ...
Other materials:
Disassembly of the clutch cover
Remove the plug (14) and its o-ring (13), the plug (17) and its o-ring (15) from the cover. Undo the fixing screw (16) of the inner cover (19). Remove the inner cover (6) and soundproofing panel (18). Remove the circlip (10) and withdraw the shim (9) and the sealing ring (8). The dri ...
Removal of the exhaust system
Remove the silencer, as described in the paragraph "removing the silencer" of this section. Loosen the screws (28) and remove the exhaust by-pass valve cover (27). Turn the exhaust valve pulley (a) to facilitate the throttle cable (25) output. Release the end fitting (b) of the cable ...
Technical specifications
General Colours Transmission Timing system/valves Crankshaft Cylinder/piston Gearbox Cooling system Front wheel Front suspension (diavel abs) Front suspension (diavel carbon abs) Rear wheel Rear suspension (diavel abs) Rear suspensio ...