Ducati Diavel Owners Manual: Replacing the high and low beam bulbs
Before replacing a burnt-out bulb, make sure that the new bulb complies with the voltage and wattage specified in the "wiring diagram", page 179. Always test the new bulb before refitting any parts you have removed.
Fig. 150 Shows the locations of the low beam bulbs (lo), high beam bulbs (hi) and the parking light bulb (1).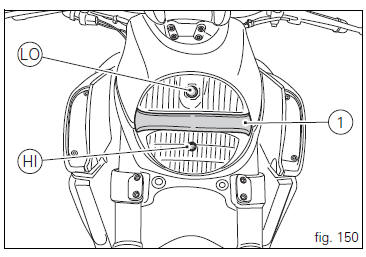 Headlight

Important
Have the high and low beam bulbs replaced by a ducati dealer or an authorised service centre.

Warning
The headlight might fog up if the vehicle is used under the rain or after washing.
Switch headlight on for a short time to dry up any condensate.
The chain fitted on your motorcycle has o-rings that keep dirt out of and lubricant inside the sliding parts. So as not to damage these seals when cleaning the chain, use special solvents and avo ...
When checking beam setting, put the motorcycle upright. Tyres should be inflated at the correct pressure and one person should be sitting astride the motorcycle, keeping it at right angles to its ...
Other materials:
Recovery procedure in the event of electric steering lock fault
If any fault occurs during activation of the electric steering lock: for example, if the pin jams, if the handlebar is moved while the pin is deployed or if there is excessive strain on the electric pin actuator motor, the electric steering lock is automatically disengaged and the hands free s ...
Alternator
It is equipped with a 12 v, 430 w generator, consisting of a fixed element (stator, a) located on the generator cover and of a movable element (rotor, b) fixed to the crankshaft. Note To check the battery charging system for faults, use the dds diagnosis instrument and follow the instruct ...
How to reset the pin code
The pin code can be reset with the dds, i.E. It can be brought to the same condition it was in when the bike came out the factory. It is possible to complete the procedure with the relevant pin code reset function. Once the pin code has been reset it will be necessary to store a new one. In ...