Ducati Diavel Owners Manual: Beam setting
When checking beam setting, put the motorcycle upright.
Tyres should be inflated at the correct pressure and one person should be sitting astride the motorcycle, keeping it at right angles to its longitudinal axis. Place the motorcycle opposite a wall or a screen, 10 meters apart from it, draw a horizontal line on the wall at the height of the centre of the headlight and a vertical one in line with the longitudinal axis of the motorcycle.
If possible, perform this check in dim light.
Switch on the low beam headlight.
The height of the upper limit between the dark area and the lit area must not be more than nine tenths of the height of the centre of the headlamp from the ground.

Note
The procedure described here is in compliance with the italian standard establishing the maximum height of the light beam.
Owners in other countries should adapt this procedure to the regulations in force in the country where the motorcycle is used.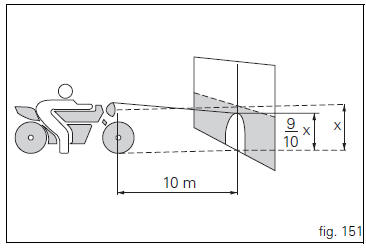 To adjust the headlight beam vertically, turn the screws (1), for horizontal adjustment, turn the screw (2).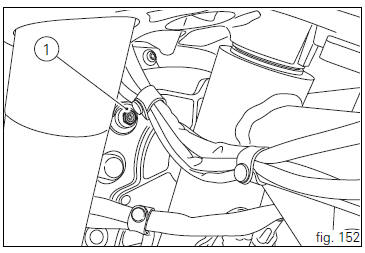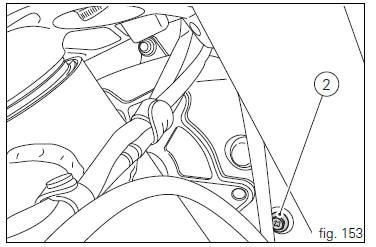 Before replacing a burnt-out bulb, make sure that the new bulb complies with the voltage and wattage specified in the "wiring diagram", page 179. Always test the new bulb before refitting ...
The rear-view mirror can be adjusted manually by pressing points (a). ...
Other materials:
Residual range indication when the service is due
After resetting the first oil service warning (triggered at 1000 km), upon every key-on the system displays the indication of which type of service should be performed next (oil service or desmo service) and the residual range. A (green) warning (1) is activated for 2 seconds on every key-on ...
Removal of the expansion tank
Loosen the clamp (6), open the hose guide (a) and slide the hose (7) out of the radiator. Open clamps (14) and release the hoses that pass through them. Loosen the screws (16). Remove the tank (12) with its hoses (7) and (20) and the support (15). Loosen the clamp (19) to r ...
Refitting the clutch-side crankcase cover
Clean and degrease mating surfaces on the clutch-side crankcase half cover and crankcase and ensure that locating bush (12) and the o-ring (11), located in correspondence with the oil way, are installed in the crankcase. Apply an even, regular bead of ducati liquid gasket (a) on the mating ...