Ducati Diavel Service Manual: Tester power supply
The dds (1) part number 97900.0215 Can be powered from the vehicle as follows: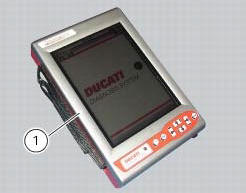 From the mains power supply: by connecting the power supply connector (n) to the network power supply (2) part no.

97900.0224;

From the motorcycle: connecting the corresponding cables (see paragraph "connection to the motorcycle");
From the tester's internal battery: the battery (q) is housed in the top part of the tester. To operate the tester (1) using the internal battery and to recharge the battery, refer to the "user manual" supplied with the dds diagnosis instrument.
To switch on the display, press the button (t).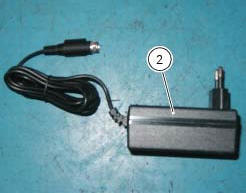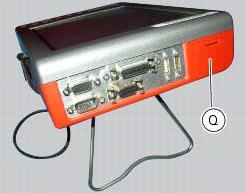 Connection to the motorcycle
The tester requires a power supply voltage within 9 and 16 volts d.C.
Make sure voltage never drops below this limit during operation: this situation could occur during engine starting and idling on motorcycles in which the battery is not in perfect working order. If the tester detects a power supply voltage lower than 9 volts, the current procedures will be reset; when the voltage returns to the acceptable tolerance limits the procedure must start again from the beginning.
The dds diagnosis instrument (1) may be powered from the motorcycle in any one of the following ways:
By connecting the instrument power connector (n) to the battery connector (3) part no. 97900.0230 And the latter to the vehicle battery;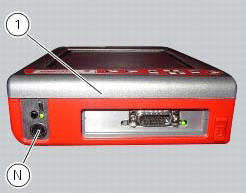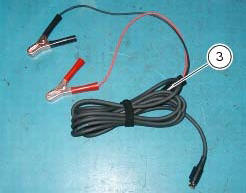 By connecting the instrument diagnosis connector (p) with the power supply and diagnosis cable (4) part no.

97900.0227S; then connect the supply and diagnosis cable outlet (r) with the battery adaptor (5) part no.

97900.0228 And the adapter to the bike battery.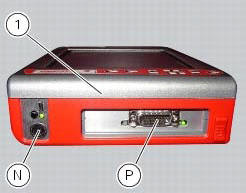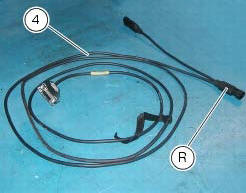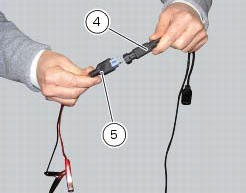 Note
For connection of the various devices required for self-diagnostic procedures, consult the instruction handbook supplied with the tester.
The "dds" diagnostic system lets you diagnose any faults in the injection-ignition system via a serial port. The system is also equipped with functions to test various devices on the motorcycle. Th ...
The main functions of the dds diagnosis instrument can be summarised as follows: Retrieval of errors (faults) of the ignition-injection system stored in the engine control unit memory and the ...
Other materials:
Refitting the filler cap
Position seal (18) in tank cap (10) as shown and reassemble following the removal procedure in the reverse sequence. In particular tighten the screws (17) to a torque of 3 nm +/- 10% (sect. 3 - 3, Frame torque settings). ...
Rear shock absorber assembly
Special screw Screw Nut Grub screw Bush (right) Bush (left) Screw Sealing ring Roller bearing Linkage (left) Shock absorber (rear) Linkage (right) Spacer Special screw Screw Bush Ball joint Rocker arm assembly Support Washer Nut Screw Shock absorber ...
Tft - parameter setting/display
Warning Any adjustments to the instrument panel must only be carried out when the motorcycle is stationary. Never operate the instrument panel controls while riding the motorcycle. At the end of the check, the instrument panel always displays as the "main" indication the odometer (to ...