Ducati Diavel Service Manual: Refitting the rear sprocket
Check the cush drive bushes (6) condition and, if necessary, replace them by removing them from the flange.
Refitting is the reverse of removal.
Apply recommended grease on the rear sprocket flange (5) external diameter.
Place the rear sprocket flange (5) on sprocket (17) by inserting it on cush drive damper pins (6).
Apply prescribed threadlocker on the nut threads (4).
Start the nuts on the cush drive damper pins (6) threaded side.
Tighten the nuts (4) to a torque of 44 nm +/- 10% (sect. 3 - 3, Frame torque settings), following a cross-pattern sequence.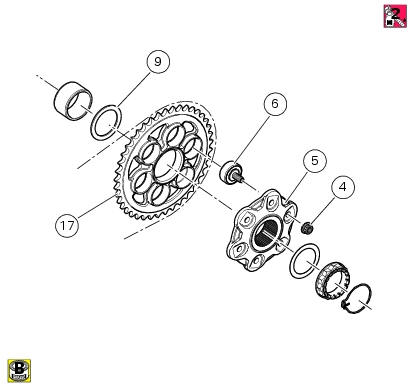 Check for wear following the instructions given at the beginning of this section.
To refit the nut (2) follow the specifications for the wheel fixing nut, in sect. 7 - 2, Refitting the rear wheel.
Position the clip (1) as shown.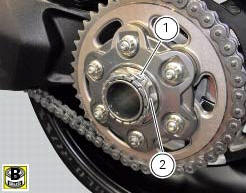 Washing the chain
Chains with o-rings must be washed in oil, diesel fuel or paraffin (kerosene).
Do not use fuel, trichloroethylene or other solvents which will damage the rubber o-rings. For the same reason use only sprays specifically formulated for use with o-ring chains.
Lock the wheel axle rotation. Remove the clip (1). Loosen the locking nut (2) with a socket wrench. Fully unscrew the nut (2) and remove the washer (3) and the flange (5) with the sproc ...
O-ring chains have sealed, life-lubed link studs and bushes. However, these chains need lubricating at regular intervals to protect metal parts of the chain and the o-rings. Lubrication also ser ...
Other materials:
Lh switch
Dip switch, light dip switch, two positions (fig. 89): (A) every time pressed down light switches from low beam on to low beam and high beam on . (B) pushed to the side = high beam flasher (flash), "start-stop lap" function. Button = three-position turn indicator ...
Recharging the battery
Examine the label on the battery showing the check intervals in order to determine when to test the voltage. Charge the battery if the open circuit voltage is lower than 12.8 V. Leaving the battery discharged for more than one month could damage it. Check the battery charge with a voltmete ...
General safety rules
Carbon monoxide When a maintenance operation must be performed with the engine running, maker sure that the working area is wellventilated. Never run the engine in an enclosed space. Warning Exhaust fumes contain carbon monoxide, which is a poisonous gas that can cause unconsciousness or e ...