Ducati Diavel Service Manual: Adjusting the clutch lever and front brake lever
The clutch lever (1) is fitted with a span adjuster (2) which serves to alter the distance of the lever from the handlebar.
The lever distance can be adjusted through 10 clicks of the dial (2). Turn clockwise to increase lever distance. Turn the adjuster counter clockwise to decrease lever distance.
When the clutch lever (1) is operated, drive from the engine to the gearbox and the drive wheel is disengaged. Correct use of the clutch lever is very important in all riding situations, especially when moving off.
The position of the front brake lever (3) can be adjusted in the same way.
Warning
Any adjustment of clutch and brake levers must only be carried out when motorcycle is stationary.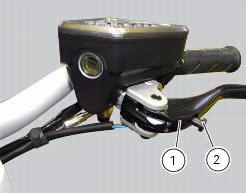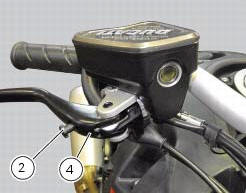 The throttle grip in all steering positions must have free play, measured on the periphery of the flange of the grip, of 1.5 - 2.0 Mm. If necessary, adjust using the adjusters (1) and (2) loca ...
The position of the gear change and rear brake pedals in relation to the footrests can be adjusted to suit the preferred riding position. To modify the gear change pedal position act in the foll ...
Other materials:
Explanation of the function of the ride-by-wire system
Mechanism Via metal cables, the throttle grip operates a roller mounted on one end of a spindle located near the horizontal cylinder throttle valve spindle. The aps sensor, which measures the position of the throttle grip itself, is mounted on the opposite end of this spindle. A mechanic ...
Location of elements on motorcycle
(A) injection relay; (b) etv relay (throttle valve operating engine); (c) radiator fan relay; (d) hands free relay. (E) ecu; (g) bbs (black box system or central electronics); (f) abs hydraulic unit with integrated control unit. Fuses located at the rear left of the vehicle. ...
Oil cooler
Oil cooler Vibration damper mount Spacer Screw Nipple Aluminium gasket Oil delivery hose Screw Plate Bracket Screw Engine oil pressure sensor Sealing washer Heat guard Exhaust protection Screw Washer Spacer Spare parts catalogue Diavel abs oil cooler Dia ...