Ducati Diavel Service Manual: Adjusting the clutch lever and front brake lever
The clutch lever (1) is fitted with a span adjuster (2) which serves to alter the distance of the lever from the handlebar.
The lever distance can be adjusted through 10 clicks of the dial (2). Turn clockwise to increase lever distance. Turn the adjuster counter clockwise to decrease lever distance.
When the clutch lever (1) is operated, drive from the engine to the gearbox and the drive wheel is disengaged. Correct use of the clutch lever is very important in all riding situations, especially when moving off.
The position of the front brake lever (3) can be adjusted in the same way.
Warning
Any adjustment of clutch and brake levers must only be carried out when motorcycle is stationary.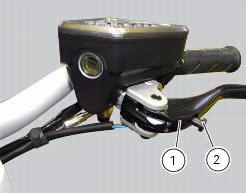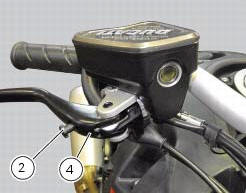 The throttle grip in all steering positions must have free play, measured on the periphery of the flange of the grip, of 1.5 - 2.0 Mm. If necessary, adjust using the adjusters (1) and (2) loca ...
The position of the gear change and rear brake pedals in relation to the footrests can be adjusted to suit the preferred riding position. To modify the gear change pedal position act in the foll ...
Other materials:
Reassembly of the front half-fairings
Fit the clips (2) on the front rh half-fairing (1). Join the rh support (4) and the front rh half-fairing (1) and keep them in position by starting the screws (5). Note To mount the rh support (4) in a proper way, it is necessary to insert the tab (g) of the front rh half-fairing (1) in t ...
Reassembly of the gearbox shafts
Figure 1 shows all the parts to be reassembled on the gearbox primary shaft (2), with the calculated end shims (1) and (11) (sec. 9 - 9.2, Reassembly of the crankcase halves). Figure 2 shows all the parts to be installed on the gearbox secondary shaft (25), with calculated end shims (15) a ...
Anti-pollution system and auto-adaptive strategy
Efficacy of the catalytic converter and oxygen sensors To comply with current emissions legislation, the diavel is equipped with a trivalent catalytic converter, which oxidises co (carbon monoxide) and hc (unburnt hydrocarbons) and reduces nox (nitrogen oxides). The image shows the exhaus ...