Ducati Diavel Owners Manual: Adjusting the position of the gearchange and rear brake pedals
The position of the gearchange and rear brake pedals in relation to the footrests can be adjusted to suit the requirements of the rider.
Adjust the pedals as follows:
Gear change pedal (fig. 97) Hold the linkage (1) and slacken the lock nuts (2) and (3).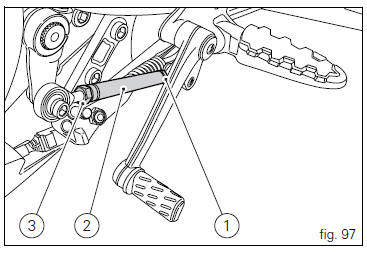 Note
Nut (2) has a left-hand thread.
Fit an open-end wrench to hexagonal element of linkage (1) and rotate until setting pedal in the desired position.
Tighten both check nuts onto linkage.
Rear brake pedal
Loosen counter nut (7).
Turn pedal stroke adjusting screw (6) until pedal is in the desired position.
Tighten the counter nut (7).
Operate the pedal by hand to check that there is 1.5 To 2 mm of freeplay before the brake bites.
If not, adjust the length of the master cylinder pushrod as follows.
Slacken off the counter nut (10) on the pushrod.
Screw the pushrod (8) into the front fork (9) to increase the freeplay, or screw it out to reduce it.
Tighten the counter nut (10) and recheck the pedal freeplay.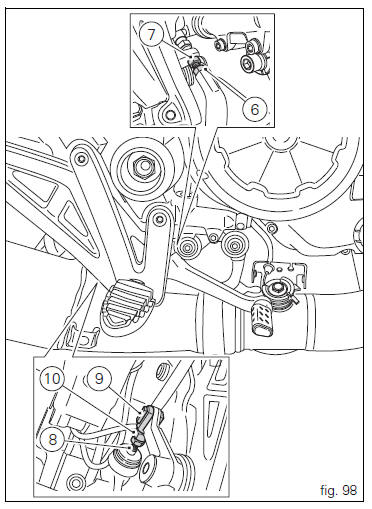 When released, the gear change pedal (1, fig. 96) Automatically returns to rest position n in the centre. This is indicated by the instrument panel light n (2, fig. 4) Coming on. The pedal can be ...
Other materials:
Passive key
Introduction The passive key (1) is used when the active key is not working correctly or is not available. The passive key works as a transponder, and must therefore be placed physically onto the antenna to work. The mechanical part (2) of the key is used to open the seat or the tank plug ...
Refitting the front sprocket
Grease the o-ring (16) and install it on the front sprocket spacer (15). Fit the spacer, from the o-ring side, on the secondary shaft and drive it fully home against the inner ring of the bearing. Check that the splines of the gearbox secondary shaft and the sprocket are in perfect condi ...
Removing the valves
Raise the rocker arm (3) and remove the opening shim (5) from the valves with a pair of pliers. Push down the closing rocker arms (16) and (4) and the closing shim (7). Remove the half rings (6) from the valves with a magnetic screwdriver. Extract the closing shims (7) from the valve ...