Ducati Diavel Owners Manual: Adjusting the position of the gearchange and rear brake pedals
The position of the gearchange and rear brake pedals in relation to the footrests can be adjusted to suit the requirements of the rider.
Adjust the pedals as follows:
Gear change pedal (fig. 97) Hold the linkage (1) and slacken the lock nuts (2) and (3).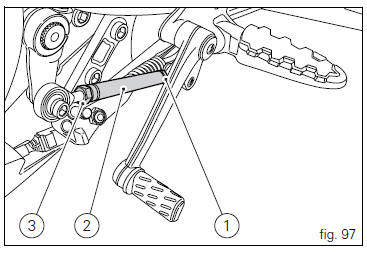 Note
Nut (2) has a left-hand thread.
Fit an open-end wrench to hexagonal element of linkage (1) and rotate until setting pedal in the desired position.
Tighten both check nuts onto linkage.
Rear brake pedal
Loosen counter nut (7).
Turn pedal stroke adjusting screw (6) until pedal is in the desired position.
Tighten the counter nut (7).
Operate the pedal by hand to check that there is 1.5 To 2 mm of freeplay before the brake bites.
If not, adjust the length of the master cylinder pushrod as follows.
Slacken off the counter nut (10) on the pushrod.
Screw the pushrod (8) into the front fork (9) to increase the freeplay, or screw it out to reduce it.
Tighten the counter nut (10) and recheck the pedal freeplay.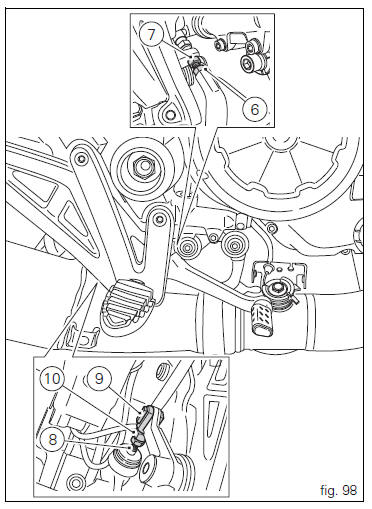 When released, the gear change pedal (1, fig. 96) Automatically returns to rest position n in the centre. This is indicated by the instrument panel light n (2, fig. 4) Coming on. The pedal can be ...
Other materials:
The immobilizer system
For additional antitheft protection, the motorcycle is equipped with an immobilizer, an electronic system that locks the engine automatically whenever the ignition switch is turned off. The grip of each ignition key contains an electronic device that modulates the output signal from a special ...
Inspection of the gear selector drum
Use a gauge to measure the clearance between fork pin and the slot on the selector drum. If the service limit is exceeded, determine which part must be replaced by comparing these dimensions with those of new components (sect. 3 - 1.1, Gearbox). Also check the wear on the drum support pin ...
Refitting the flywheel-alternator assembly
Fit the roller cage unit (20) with washer (18) and internal ring (19), applying prescribed grease on the washer (18). Install the roller cage assembly (20) with the washer (18) and inner race (19). Install the flywheel assembly (v) with the gear (21), aligning the notches as shown in ...