Ducati Diavel Owners Manual: Adjusting the position of the gearchange and rear brake pedals
The position of the gearchange and rear brake pedals in relation to the footrests can be adjusted to suit the requirements of the rider.
Adjust the pedals as follows:
Gear change pedal (fig. 97) Hold the linkage (1) and slacken the lock nuts (2) and (3).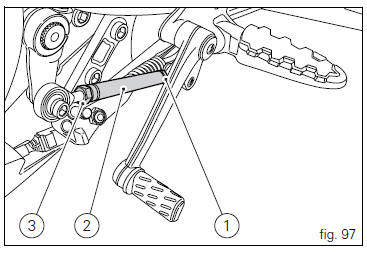 Note
Nut (2) has a left-hand thread.
Fit an open-end wrench to hexagonal element of linkage (1) and rotate until setting pedal in the desired position.
Tighten both check nuts onto linkage.
Rear brake pedal
Loosen counter nut (7).
Turn pedal stroke adjusting screw (6) until pedal is in the desired position.
Tighten the counter nut (7).
Operate the pedal by hand to check that there is 1.5 To 2 mm of freeplay before the brake bites.
If not, adjust the length of the master cylinder pushrod as follows.
Slacken off the counter nut (10) on the pushrod.
Screw the pushrod (8) into the front fork (9) to increase the freeplay, or screw it out to reduce it.
Tighten the counter nut (10) and recheck the pedal freeplay.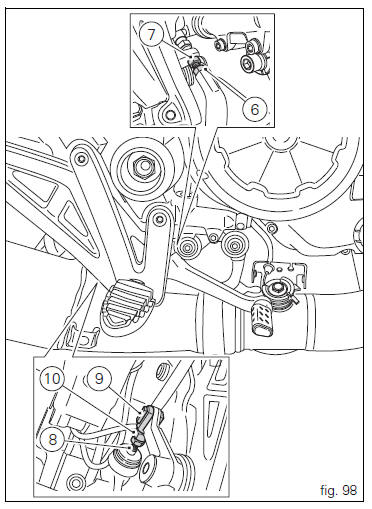 When released, the gear change pedal (1, fig. 96) Automatically returns to rest position n in the centre. This is indicated by the instrument panel light n (2, fig. 4) Coming on. The pedal can be ...
Other materials:
Lap registration function
This function describes the "lap" time registration. If the function is activated (see "lap activation/deactivation description), the lap time can be registered as follows: Pressing the flash headlight button (11, fig. 12) The first time starts the "lap timer" for ...
Hands free
Hands free Special screw Plug Electric fuel plug Button Spring Frame Elastic pin Spare parts catalogue Diavel abs handlebar and controls Diavel carbon abs handlebar and controls Important Bold reference numbers in this section identify parts not shown in the figures a ...
How to use this manual
How to use this manual This manual has been prepared for technical personnel at ducati authorized service centres with the aim of providing fundamental information on how to work in accordance with the modern concepts of "best practice" and "safety in the workplace" during the maintenance, re ...