Ducati Diavel Owners Manual: Gear change pedal
When released, the gear change pedal (1, fig. 96) Automatically returns to rest position n in the centre. This is indicated by the instrument panel light n (2, fig. 4) Coming on.
The pedal can be moved: down = press down the pedal to engage the 1st gear and to shift down. At this point the n light on the instrument panel will go off; upwards= lift the pedal to engage 2nd gear and then 3rd, 4th, 5th and 6th gears.
Each time you move the pedal you will engage the next gear.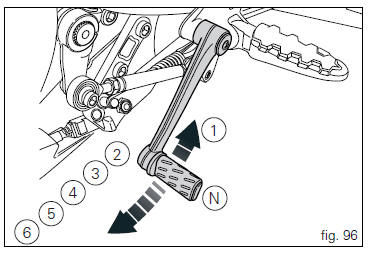 Push down the pedal (1, fig. 95) To operate the rear brake. The system is hydraulically controlled. ...
The position of the gearchange and rear brake pedals in relation to the footrests can be adjusted to suit the requirements of the rider. Adjust the pedals as follows: Gear change pedal (fig. 97) ...
Other materials:
Overhaul of the flywheel-alternator assembly
Examine the inner part of alternator rotor (24) for signs of damage. Check that the starter clutch is working properly and that the needle races do not show signs of wear or damage of any kind. If there is any malfunction, remove the whole assembly. Disassembling the generator flywheel U ...
Residual range indication when the service is due
After resetting the first oil service warning (triggered at 1000 km), upon every key-on the system displays the indication of which type of service should be performed next (oil service or desmo service) and the residual range. A (green) warning (1, fig. 32) Is activated for 2 seconds on ever ...
Refitting the rear brake control
If the pushrod (18), clip (30) and fork (31) assembly has been dismantled, reassemble it by screwing the nut (29) onto the rod (18) and then screw the rod into the fork (31) to obtain the measurement indicated in the figure. Block the rod and tighten to a torque of 7.5 Nm +/- 10% (sect. 3 - ...