Ducati Diavel Owners Manual: Gear change pedal
When released, the gear change pedal (1, fig. 96) Automatically returns to rest position n in the centre. This is indicated by the instrument panel light n (2, fig. 4) Coming on.
The pedal can be moved: down = press down the pedal to engage the 1st gear and to shift down. At this point the n light on the instrument panel will go off; upwards= lift the pedal to engage 2nd gear and then 3rd, 4th, 5th and 6th gears.
Each time you move the pedal you will engage the next gear.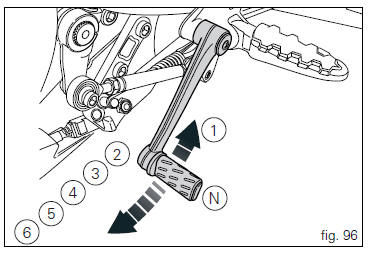 Push down the pedal (1, fig. 95) To operate the rear brake. The system is hydraulically controlled. ...
The position of the gearchange and rear brake pedals in relation to the footrests can be adjusted to suit the requirements of the rider. Adjust the pedals as follows: Gear change pedal (fig. 97) ...
Other materials:
How to switch the dashboard on
The dashboard may switched on either from the on/off switch on the handlebar or from the button on the hands free system. With the engine off, the on/off switch is turned to "run off". With the motorcycle and dashboard off, the on/off switch is turned to "run off". To switch the dash ...
Replacing the high and low beam bulbs
Before replacing a burnt-out bulb, make sure that the new bulb complies with the voltage and wattage specified in the "wiring diagram", page 179. Always test the new bulb before refitting any parts you have removed. Fig. 150 Shows the locations of the low beam bulbs (lo), high beam ...
Chain lubrication
The chain fitted on your motorcycle has o-rings that keep dirt out of and lubricant inside the sliding parts. So as not to damage these seals when cleaning the chain, use special solvents and avoid aggressive washing with highpressure steam cleaners. After cleaning, blow the chain dry with ...