Ducati Diavel Owners Manual: Gear change pedal
When released, the gear change pedal (1, fig. 96) Automatically returns to rest position n in the centre. This is indicated by the instrument panel light n (2, fig. 4) Coming on.
The pedal can be moved: down = press down the pedal to engage the 1st gear and to shift down. At this point the n light on the instrument panel will go off; upwards= lift the pedal to engage 2nd gear and then 3rd, 4th, 5th and 6th gears.
Each time you move the pedal you will engage the next gear.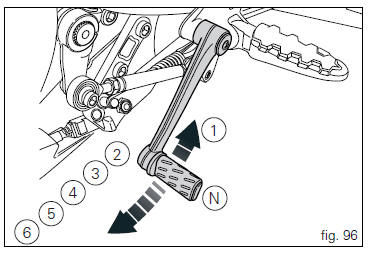 Push down the pedal (1, fig. 95) To operate the rear brake. The system is hydraulically controlled. ...
The position of the gearchange and rear brake pedals in relation to the footrests can be adjusted to suit the requirements of the rider. Adjust the pedals as follows: Gear change pedal (fig. 97) ...
Other materials:
Removing outer components
Note The following removal operations are required in order to renew and/or clean the crankcase halves. If the original crankcase halves are to be reused, then the removal of these components is not essential. Unscrew the screw (17) and remove the oil breather valve (1) with the o-rings ...
Removal the airbox and throttle body
Loosen the screws (a) and remove the plate (b) that fixes the main wiring to the airbox. Undo the screws (17) and remove the air pressure sensors (9) with the support (19). Release the hoses (c) of the air pressure sensors (9) from the tab (d) on the airbox. Operating on the ...
General cleaning
To preserve the finish of metal parts and paintwork, wash and clean your motorcycle at regular intervals, anyway according to the road conditions you ride in. Use specific products, where possible biodegradable. Avoid aggressive detergents or solvents. Use only water and neutral soap to clean ...