Ducati Diavel Service Manual: Check engine oil level
Check the engine oil level through the sight glass (1) on the right-hand side of the oil sump.
Stop the engine and allow a few minutes for the oil to settle to a steady level.
Oil level must be checked with the vehicle perfectly upright and the engine cold.
The oil must be between the min and max. Marks. If the level is low, top it up.
Remove the filler cap (2) and top up with the recommended oil.
Refit the filler plug (2).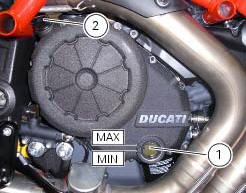 Reading of the error memory with dds on the engine control units, vehicle and abs Check if there are errors by following the procedure described in the paragraph "guided diagnosis" (sect. 6 - 11) ...
Note This operation has to be carried out with hot engine (but turned off) because the oil in these conditions is more fluid and its evacuation is faster and complete. Remove the drain plug (3) w ...
Other materials:
Removal of the primary drive gear
Withdraw the clutch housing (1) complete with driven gear of the primary pair (a). Remove the inner spacer (2). Remove the oil pump (d) (sect. 9 - 2.1, Removal of the oil pump). Lock the primary pinion (b) with the holding tool 88713.3417 And loosen the threaded ring nut (3) u ...
Removal of the front footrests
Note The removal of the front footrests is described only for the right one (2) but it is the same also for the left one. Remove the circlip (5) by releasing the pin (3). Slide the pin (3) off the frame by supporting the footrest (2). Slide off the footrest (2) from its seat and collect th ...
Traction control (dtc) deactivated
The activation of this (amber yellow) "warning" indicates that dtc (ducati traction control) has been turned off. Note In this case, ducati recommends being very careful when riding as the vehicle behaviour will be different in comparison to when operating with the traction control ...