Ducati Diavel Service Manual: Check engine oil level
Check the engine oil level through the sight glass (1) on the right-hand side of the oil sump.
Stop the engine and allow a few minutes for the oil to settle to a steady level.
Oil level must be checked with the vehicle perfectly upright and the engine cold.
The oil must be between the min and max. Marks. If the level is low, top it up.
Remove the filler cap (2) and top up with the recommended oil.
Refit the filler plug (2).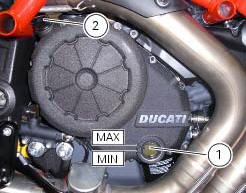 Reading of the error memory with dds on the engine control units, vehicle and abs Check if there are errors by following the procedure described in the paragraph "guided diagnosis" (sect. 6 - 11) ...
Note This operation has to be carried out with hot engine (but turned off) because the oil in these conditions is more fluid and its evacuation is faster and complete. Remove the drain plug (3) w ...
Other materials:
Instrument panel diagnosis
This function identifies any abnormal vehicle behaviours. The instrument panel activates any abnormal vehicle behaviours in real time (errors). At key-on (at the end of the check) one or more "errors" are displayed in red (only if they are active). When an "error" is t ...
Checking brake pad wear and changing brake pads
Warning Brake fluid is corrosive and will damage paintwork. Avoid contact with eyes and skin. In the case of accidental contact, wash the affected area thoroughly with plenty of running water. Important On handing over the motorcycle after changing the brake pads, inform the customer that th ...
Overhaul of cylinder head components
Cylinder heads Remove any carbon deposits from the combustion chamber and its ducts. Remove any scale from the coolant ducts. Check for cracking and inspect the sealing surfaces for scoring, ridges or other damage. Check that the cylinder barrel mating surfaces of the cylinder head are ...