Ducati Diavel Owners Manual: Checking drive chain tension
Important
Have chain tension adjusted by a ducati dealer or authorised service centre.
Make the rear wheel turn until you find the position where chain is tightest.
Set the vehicle on the side stand. Push down the chain at the point of measurement and release.
Measure the distance between the "aperture" upper profile and pin centre.
The read distance must be: 9 ÷ 11 mm.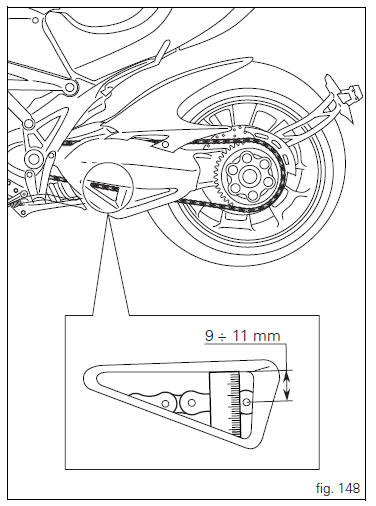 Important
If the drive chain is too tight or too slack, adjust it so that tension reading will fall within specified range.

Warning
Correct tightening of screws (1, fig. 149) Is critical to rider and passenger safety.

Important
Improper chain tension will lead to early wear of transmission parts.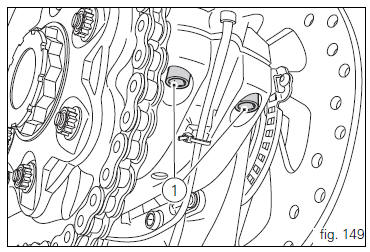 Your motorcycle is equipped with a connector (1, fig. 147) To which you can connect a special battery charger available from our sales network. ...
The chain fitted on your motorcycle has o-rings that keep dirt out of and lubricant inside the sliding parts. So as not to damage these seals when cleaning the chain, use special solvents and avo ...
Other materials:
Removal of the exhaust system
Remove the silencer, as described in the paragraph "removing the silencer" of this section. Loosen the screws (28) and remove the exhaust by-pass valve cover (27). Turn the exhaust valve pulley (a) to facilitate the throttle cable (25) output. Release the end fitting (b) of the cable ...
Removal of the primary drive gear
Withdraw the clutch housing (1) complete with driven gear of the primary pair (a). Remove the inner spacer (2). Remove the oil pump (d) (sect. 9 - 2.1, Removal of the oil pump). Lock the primary pinion (b) with the holding tool 88713.3417 And loosen the threaded ring nut (3) u ...
Checking and adjusting the valve clearances
Note For clarity, the figures show the engine removed from the frame. Move the piston of the cylinder being checked to tdc of the power stroke: in this condition, all the valves are closed and the timing shafts come in neutral position and, therefore, free to rotate; check to the valve cl ...