Ducati Diavel Owners Manual: Checking drive chain tension
Important
Have chain tension adjusted by a ducati dealer or authorised service centre.
Make the rear wheel turn until you find the position where chain is tightest.
Set the vehicle on the side stand. Push down the chain at the point of measurement and release.
Measure the distance between the "aperture" upper profile and pin centre.
The read distance must be: 9 ÷ 11 mm.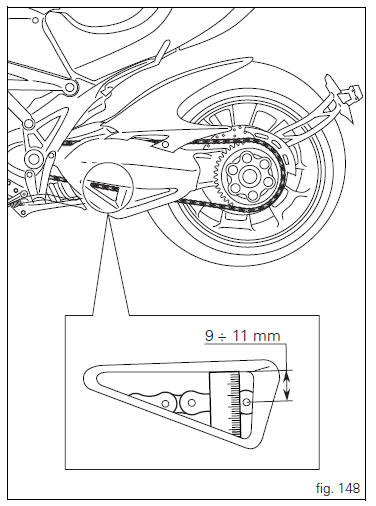 Important
If the drive chain is too tight or too slack, adjust it so that tension reading will fall within specified range.

Warning
Correct tightening of screws (1, fig. 149) Is critical to rider and passenger safety.

Important
Improper chain tension will lead to early wear of transmission parts.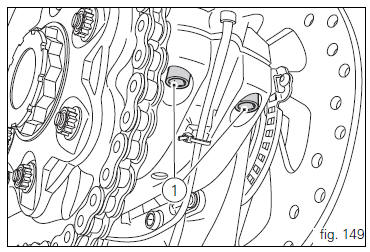 Your motorcycle is equipped with a connector (1, fig. 147) To which you can connect a special battery charger available from our sales network. ...
The chain fitted on your motorcycle has o-rings that keep dirt out of and lubricant inside the sliding parts. So as not to damage these seals when cleaning the chain, use special solvents and avo ...
Other materials:
Reassembly of structural components and the frame
Check for the nuts with clips (8). Apply recommended grease on the threads of the adjusters (4) and the ring nuts (5) having care not to have grease on the surface (c) of the adjusters. Tighten the adjusters on the ring nut side opposite to that featuring flats until bringing the surfac ...
Disassembly of gear interlock plunger and pawl assembly
Unscrew the interlock plunger screw (5) and remove the seal (6), spring (7) and the detent ball (8). Unscrew the clutch-side crankcase half screw (3) and remove the pawl (4), washer (2) and spring (1). ...
Absolute pressure sensors
Introduction The engine control system of the diavel is equipped with two absolute pressure sensors, with one connected to the intake duct of each cylinder (map 1 cylinder 1 - horizontal - map 2 cylinder 2 - vertical). They are used by the control unit to determine the quantity of fuel to be ...