Ducati Diavel Service Manual: External components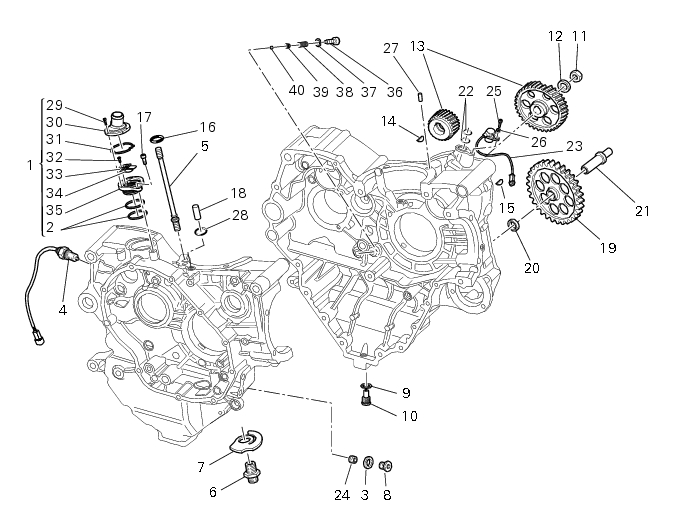 Oil breather valve
O-ring
Sealing washer
Gear position sensor
Cylinder barrel/head stud
Nipple
By-pass spring
Plug
Plug
Aluminium gasket
Nut
Lock washer
Timing gear pair
Key
Key
O-ring
Screw
Locating dowel
Starter idler gear
Washer
Gear shaft
O-ring
Engine sensor
Grub screw
Screw
Washer
Locating dowel
O-ring
Screw
Upper shield
Sealing washer
Screw
Spacer
Reed
Lower shield
Special screw
Washer
Spring
Cap
Ball
Spare parts catalogue
Diavel abs gearchange control
Diavel abs timing system
Diavel abs crankcase halves
Diavel abs crankcase halves
Diavel abs electric starting and ignition
Diavel carbon abs gearchange control
Diavel carbon abs timing system
Diavel carbon abs crankcase halves
Diavel carbon abs crankcase halves
Diavel carbon abs electric starting and ignition
Important
Bold reference numbers in this section identify parts not shown in the figures alongside the text, but which can be found in the exploded view diagram.
Note The following removal operations are required in order to renew and/or clean the crankcase halves. If the original crankcase halves are to be reused, then the removal of these components ...
Other materials:
Refitting the water pump
Clean the seat on the cover, any parts you intend to reuse, and the impeller shaft. Then refit as follows. Fit on the impeller (10) shaft the mechanical seal (9) as indicated in the figure. Apply specified lubricant to facilitate the insertion. Bring the mechanical seal fully home on th ...
Removal of the front footrests
Note The removal of the front footrests is described only for the right one (2) but it is the same also for the left one. Remove the circlip (5) by releasing the pin (3). Slide the pin (3) off the frame by supporting the footrest (2). Slide off the footrest (2) from its seat and collect th ...
Refitting the side stand
Place the stand plate on the rear shock absorber support; bring adjuster (14) in line with bracket (s) and start the screw (12) in the nut behind the bracket (s). Insert the screws (11), (3) and (10) fully home in this order, but do not tighten. Loosen the screw (12) with the relative nut ...