Ducati Diavel Owners Manual: Rh switch
Red on/off switch.
Black engine start button.
The switch (1) has three positions:
Centre: run off. In this position, the engine cannot be started and all electronic devices are off.
Pushed down: on/off. In this position, the system can be turned on (key-on) and off (key-off).
Pushed up: run on. The engine can only be started in this position, pushing the black button (2).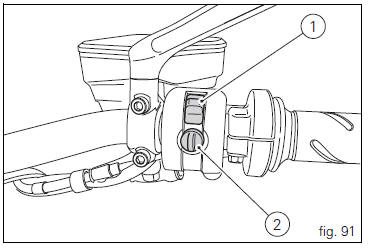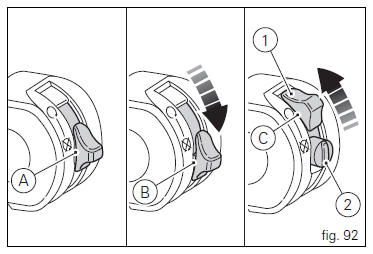 Lever (1) disengages the clutch. It features a dial adjuster (2) for lever distance from the twistgrip on handlebar. The lever distance can be adjusted through 10 clicks of the dial (2). Turn clo ...
The twistgrip (1, fig. 93) On the right handlebar opens the throttles. When released, it will spring back to the initial position (idling speed). ...
Other materials:
Steering angle adjustment
Loosen the nuts (17) and adjuster screws (16) on both sides of the bottom yoke. Use a 6 to 6.5 Mm spacer (a) fitted to the fork outer tube, or use a gauge. Turn the front forks to the right until the spacer (a) is seated against the frame top tube. Tighten the adjuster screw (16) to ...
Refitting the timing belts
Rotate the pulleys on the timing belt driveshaft until the timing mark on the outer roller is aligned with the mark on the clutch-side crankcase cover. In this condition, the horizontal cylinder piston will be at top dead centre. Install in the alternator cover seat the tool code 88713.20 ...
Alternator
It is equipped with a 12 v, 430 w generator, consisting of a fixed element (stator, a) located on the generator cover and of a movable element (rotor, b) fixed to the crankshaft. Note To check the battery charging system for faults, use the dds diagnosis instrument and follow the instruct ...