Ducati Diavel Service Manual: Dashboard on tank
Menu 1 (tot, trip1, trip2, trip fuel).
Menu 2 (cons.Avg., Cons., Speed avg, air and trip time) if active.
Gear / neutral indication.
Icon referred to the function below from menu 1.
Indication of engine setting for the currently set riding style.
Currently set riding style (riding mode).
Indication of the intervention level of the dtc (traction control) for the currently set riding style.
Icon referred to the function below from menu 2.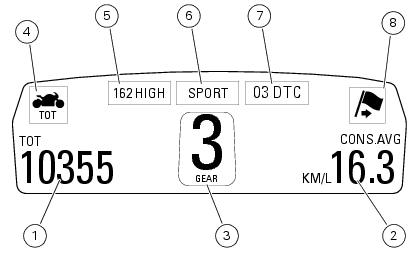 This function indicates coolant indication state. The temperature unit of measure can be selected (C or f). The reading is indicated as follows: if the reading is between - 39C and +39C "lo" is s ...
Warning Any adjustments to the dashboard must only be carried out when the motorcycle is stationary. Never operate the dashboard controls while riding the motorcycle. At the end of the check, the ...
Other materials:
Residual range indication when the service is due
After resetting the first oil service warning (triggered at 1000 km), upon every key-on the system displays the indication of which type of service should be performed next (oil service or desmo service) and the residual range. A (green) warning (1) is activated for 2 seconds on every key-on ...
Abs disabling function
This function disables or enables the abs. To access the function it is necessary to view the "setting" menu page 48, using button (1, fig. 14) ?" " or (2, fig. 14) ?"" select the "abs" function and press the reset button (12, fig. 12) To go to next ...
Alternator
It is equipped with a 12 v, 430 w generator, consisting of a fixed element (stator, a) located on the generator cover and of a movable element (rotor, b) fixed to the crankshaft. Note To check the battery charging system for faults, use the dds diagnosis instrument and follow the instruct ...