Ducati Diavel Service Manual: Dashboard on tank
Menu 1 (tot, trip1, trip2, trip fuel).
Menu 2 (cons.Avg., Cons., Speed avg, air and trip time) if active.
Gear / neutral indication.
Icon referred to the function below from menu 1.
Indication of engine setting for the currently set riding style.
Currently set riding style (riding mode).
Indication of the intervention level of the dtc (traction control) for the currently set riding style.
Icon referred to the function below from menu 2.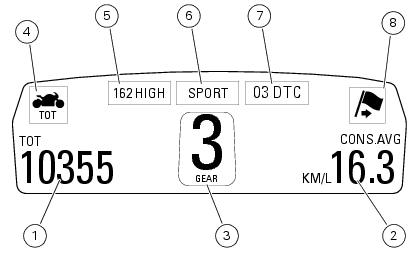 This function indicates coolant indication state. The temperature unit of measure can be selected (C or f). The reading is indicated as follows: if the reading is between - 39C and +39C "lo" is s ...
Warning Any adjustments to the dashboard must only be carried out when the motorcycle is stationary. Never operate the dashboard controls while riding the motorcycle. At the end of the check, the ...
Other materials:
Flexible wiring/hoses positioning
The routing of the abs wiring has been optimised to ensure the minimum obstruction. Each section is designed to prevent interference with parts that might damage wires or cause operating failures when riding. Table a Table b Table c ...
Indicator air - air temperature
This function shows the external temperature. Display limits: -39C - +124C In the event of a sensor fault (-40C, +125C or disconnected), a string of dashes "- - -" (not flashing) is displayed and the "vehicle/engine diagnosis - eobd" light comes on. Note When the vehicle is stopped, the ...
Engaged gear indicator
This function displays the gears (1, fig. 25). The instrument panel receives information and indicates the engaged gear or "n" for neutral. Note In the case of a gear sensor "error", a dash "-" (not flashing) will be displayed. ...