Ducati Diavel Service Manual: Tft - parameter setting/display
Warning
Any adjustments to the dashboard must only be carried out when the motorcycle is stationary. Never operate the dashboard controls while riding the motorcycle.
At the end of the check, the dashboard always displays as the "main" indication the odometer (tot) on the left and the average fuel consumption on the right (unless menu 2 was disabled).
At the end of the initial check, the dashboard will always show the "main" display, indicating the following information: set "riding style" (riding mode); gear indication (gear); menu 1: odometer (tot); menu 2: average fuel consumption (cons. Avg).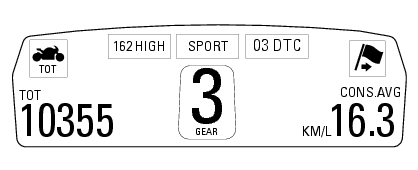 By pressing the button (1) "s" it is possible to switch to the following functions of menu 1: trip1 - trip meter 1; trip2 - trip meter 2; trip fuel - distance travelled on fuel reserve (only if active); by pressing the button (2) "t" it is possible to switch to the following functions of menu 2: cons. - Current fuel consumption; speed avg - average speed; trip time - trip time; air - air temperature; menu 2 viewing can be disabled through the "menu 2" function of the setting menu.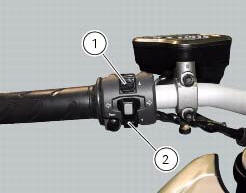 Menu 1 (tot, trip1, trip2, trip fuel). Menu 2 (cons.Avg., Cons., Speed avg, air and trip time) if active. Gear / neutral indication. Icon referred to the function below from menu 1. Indicat ...
This function shows the total distance covered by the vehicle (in km or miles depending on the specific application). At key-on the system automatically enters this function. The odometer read ...
Other materials:
Refitting the exhaust system
Refit the heat guard on the manifold (10) by tightening the nuts (9) to a torque of 10 nm +/- 10% (sect. 3 - 3, Frame torque settings). Position the vertical exhaust manifold (22) on the vertical cylinder head with the gasket (23). Tighten the fixing nuts (21) to a torque of 10 nm +/- 1 ...
Refitting the rear sprocket
Check the cush drive bushes (6) condition and, if necessary, replace them by removing them from the flange. Refitting is the reverse of removal. Apply recommended grease on the rear sprocket flange (5) external diameter. Place the rear sprocket flange (5) on sprocket (17) by inserting it ...
"Parking" function
This function activates the "parkin"h mode. The "parkin"h function activates the front and rear parking lights when the vehicle is turned off so it is visible when parked. The function is activated by pressing the button (2, fig. 14) ?"´" for 3 seconds du ...