Ducati Diavel Service Manual: Tft - parameter setting/display
Warning
Any adjustments to the dashboard must only be carried out when the motorcycle is stationary. Never operate the dashboard controls while riding the motorcycle.
At the end of the check, the dashboard always displays as the "main" indication the odometer (tot) on the left and the average fuel consumption on the right (unless menu 2 was disabled).
At the end of the initial check, the dashboard will always show the "main" display, indicating the following information: set "riding style" (riding mode); gear indication (gear); menu 1: odometer (tot); menu 2: average fuel consumption (cons. Avg).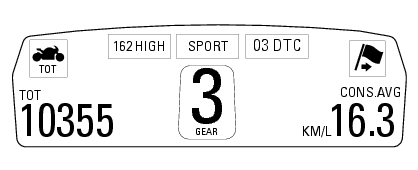 By pressing the button (1) "s" it is possible to switch to the following functions of menu 1: trip1 - trip meter 1; trip2 - trip meter 2; trip fuel - distance travelled on fuel reserve (only if active); by pressing the button (2) "t" it is possible to switch to the following functions of menu 2: cons. - Current fuel consumption; speed avg - average speed; trip time - trip time; air - air temperature; menu 2 viewing can be disabled through the "menu 2" function of the setting menu.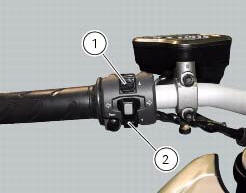 Menu 1 (tot, trip1, trip2, trip fuel). Menu 2 (cons.Avg., Cons., Speed avg, air and trip time) if active. Gear / neutral indication. Icon referred to the function below from menu 1. Indicat ...
This function shows the total distance covered by the vehicle (in km or miles depending on the specific application). At key-on the system automatically enters this function. The odometer read ...
Other materials:
Stored lap display function
This function displays the stored laps. To access the function it is necessary to view the "setting" menu page 48, using button (1, fig. 14) ?"" or (2, fig. 14) ?" " select the "lap" function and press the reset button (12, fig. 12) To go to next pag ...
Renewal of the cooling fan
Loosen the electro-fan retaining screws (15) and (17) and remove the electro-fan (18) from the radiator. Carry out the same procedure for the other radiator's electro-fan. On refitting, position the coolant radiator fan (18) as shown on the fan support (16), so that the three fan holes mat ...
Timing system
Central external cover Air filter Horizontal cylinder timing belt cover Screw Filter support Screw Washer Nut Tensioner pulley assembly Circlip Camshaft pulley Tensioner pin Idler pulley assembly Timing belt Nut Key Spacer Camshaft pulley Driveshaft pulley ...