Ducati Diavel Service Manual: Tft - parameter setting/display
Warning
Any adjustments to the dashboard must only be carried out when the motorcycle is stationary. Never operate the dashboard controls while riding the motorcycle.
At the end of the check, the dashboard always displays as the "main" indication the odometer (tot) on the left and the average fuel consumption on the right (unless menu 2 was disabled).
At the end of the initial check, the dashboard will always show the "main" display, indicating the following information: set "riding style" (riding mode); gear indication (gear); menu 1: odometer (tot); menu 2: average fuel consumption (cons. Avg).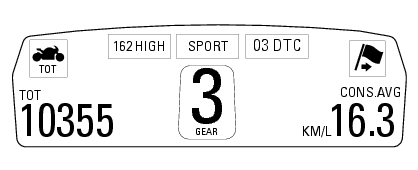 By pressing the button (1) "s" it is possible to switch to the following functions of menu 1: trip1 - trip meter 1; trip2 - trip meter 2; trip fuel - distance travelled on fuel reserve (only if active); by pressing the button (2) "t" it is possible to switch to the following functions of menu 2: cons. - Current fuel consumption; speed avg - average speed; trip time - trip time; air - air temperature; menu 2 viewing can be disabled through the "menu 2" function of the setting menu.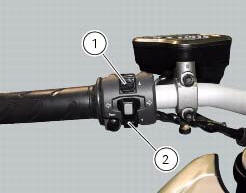 Menu 1 (tot, trip1, trip2, trip fuel). Menu 2 (cons.Avg., Cons., Speed avg, air and trip time) if active. Gear / neutral indication. Icon referred to the function below from menu 1. Indicat ...
This function shows the total distance covered by the vehicle (in km or miles depending on the specific application). At key-on the system automatically enters this function. The odometer read ...
Other materials:
Refitting the timing belts
Rotate the pulleys on the timing belt driveshaft until the timing mark on the outer roller is aligned with the mark on the clutch-side crankcase cover. In this condition, the horizontal cylinder piston will be at top dead centre. Install in the alternator cover seat the tool code 88713.20 ...
Accelerator position sensor (throttle grip)
Introduction An accelerator position sensor (aps) is mounted on the throttle body of the diavel, which measures the degree of aperture of the throttle grip. The throttle grip is connected to the sensor via two metal cables The sensor transmits information to the ecu relative to the "torque ...
Background setting function for the dashboard on tank - dashboard 1
This function allows setting the "background" of the dashboard on tank. To access the function it is necessary to view the ""setting" menu", using buttons (1) "s" or (2) "t" select the "back light" function and press the reset button (3) to enter the following page. Use button (1) "s" or (2 ...