Ducati Diavel Service Manual: Steering angle adjustment
Loosen the nuts (17) and adjuster screws (16) on both sides of the bottom yoke.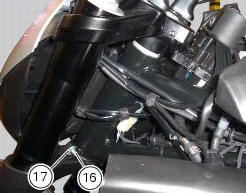 Use a 6 to 6.5 Mm spacer (a) fitted to the fork outer tube, or use a gauge.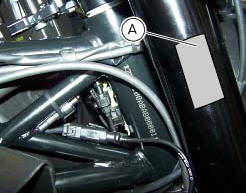 Turn the front forks to the right until the spacer (a) is seated against the frame top tube.
Tighten the adjuster screw (16) to bring it into contact with the stop on the steering head.
Apply threadlocker to the thread of nut (17). Hold the adjuster screw (16) firm and tighten the nut (17). Turn the forks to the opposite side: and repeat the process to adjust the other dowel and tighten the relative lock nut.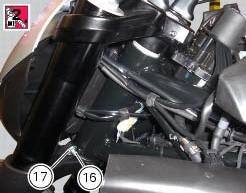 Once adjusted, set handlebar completely turned right and ensure that the gap between front brake line and lower frame trellis is at least 1 mm. If it is not so, decrease steering angle by working the right-hand adjuster.