Ducati Diavel Service Manual: Removal of the timing belt covers
Loosen the screws (4) securing the central external cover (1) and remove it from the central side.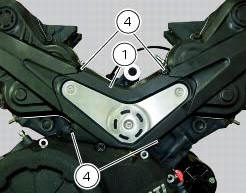 Undo the fixing screws (4) of the external cover (25) and remove it from the vertical thermal unit.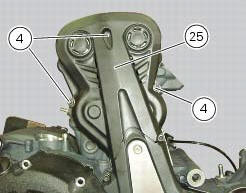 Undo the fixing screws (4) of the external cover (3) and remove it from the horizontal thermal unit.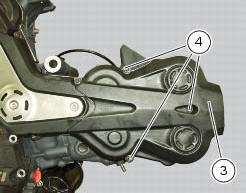 Central external cover Air filter Horizontal cylinder timing belt cover Screw Filter support Screw Washer Nut Tensioner pulley assembly Circlip Camshaft pulley Tensioner p ...
Loosen the nut (8) and remove the washer (7) and the tensioner pulley (9) from the pin (12) on the cylinder head. Remove the timing belt (14) from the horizontal cylinder assembly. Important If ...
Other materials:
Reassembly of the timing pulleys
Fit the pulley (11) on the flange (24), aligning the timing mark (d) on the pulley with the timing mark on the (e) on the flange. Install the washer (23) up against the pulley, aligning the timing notch (f) with the timing marks on the pulley and the flange. Insert the three screws (22) ...
Riding mode customisation
This function customises each riding style. To access the function it is necessary to view the ""setting" menu", using buttons (1) "s" or (2) "t" select the "riding mode" function and press the reset button (3) to enter the following page. When accessing the function, the three riding modes ...
Changing the clutch fluid
Warning Clutch fluid will damage painted surfaces if spilled on them. It is also very harmful if it comes into contact with the skin or with the eyes; in the event of accidental contact wash the affected area with abundant running water. Remove cover (1) and membrane from the clutch fluid res ...