Ducati Diavel Service Manual: Removing the flywheel - generator assembly
Use the tool 88713.3367 Fixed to the m10 side stand fixing holes (d).
Secure the tool to the flywheel with the screws (e).
Unscrew the alternator-flywheel retaining nut (15).
Warning
While unscrewing the nut, apply axial pressure to the socket to avoid damage or injury in the event of the wrench suddenly slipping off the nut.
Remove the nut (15), the washer (16) and the flywheel assembly (v) with the driven gear (21) from the crankshaft.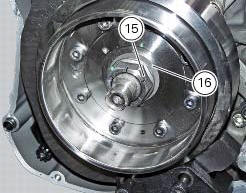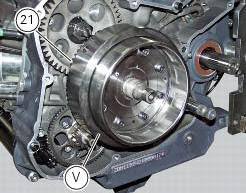 Remove the inner race (19), the needle roller bearing (20) and the washer (18).
Important
Check the race (19), the needle roller bearing (20) and the inner washer (18) for wear. Renew if worn.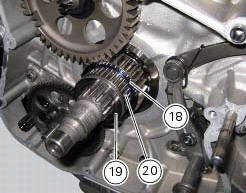 Undo the three stator retaining screws (25) and the two retaining screws (9) of the two cable grommet bracket (10) from inside the generator cover. Remove the stator (2) and the cable grommet br ...
Examine the inner part of alternator rotor (24) for signs of damage. Check that the starter clutch is working properly and that the needle races do not show signs of wear or damage of any kind. If ...
Other materials:
Technical specifications
General Colours Transmission Timing system/valves Crankshaft Cylinder/piston Gearbox Cooling system Front wheel Front suspension (diavel abs) Front suspension (diavel carbon abs) Rear wheel Rear suspension (diavel abs) Rear suspensio ...
Explanation of the function of the ride-by-wire system
Mechanism Via metal cables, the throttle grip operates a roller mounted on one end of a spindle located near the horizontal cylinder throttle valve spindle. The aps sensor, which measures the position of the throttle grip itself, is mounted on the opposite end of this spindle. A mechanic ...
Overhauling the front wheel
Wheel bearings Before checking the dimensions, check the wear on wheel bearings. Check for wear by hand after cleaning and degreasing the bearings in their seats. Turn the inner race. Check the amount of radial and axial play. Excessive play will cause vibration and make the bike unstabl ...