Ducati Diavel Service Manual: Exhaust by-pass valve not working correctly
Fault codes
Dds: exvl diagnosis -> position error, potentiometer, short circuit to ground or open circuit (s.C. Gnd or c.O.), Potentiometer short circuited to vdc (potentiometer s.C vdc).
Dashboard: the error "exvl" (exhaust bypass valve) is shown on the service display. The eobd warning light activates.
Wiring diagram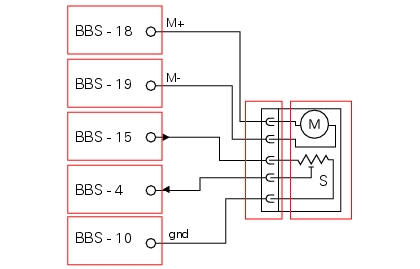 M exhaust bypass valve motor with potentiometer s for position detection, bbs bbs unit connection. 10 Bbs black/blue - bk/b, 15 bbs brown/red - bn/r, 4 bbs yellow/blue - y/b, 18 bbs black/orange - bk/o, 19 bbs black/white - bk/w.
Location of connections and components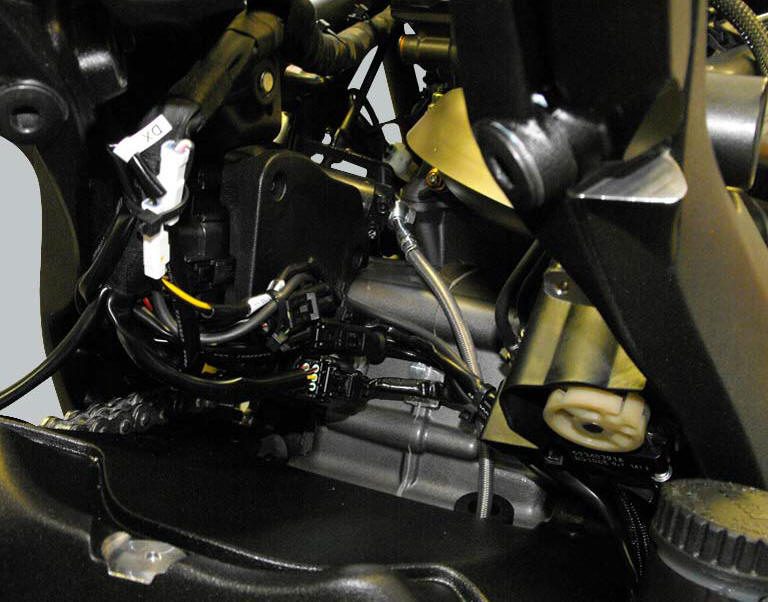 Exhaust bypass valve connection.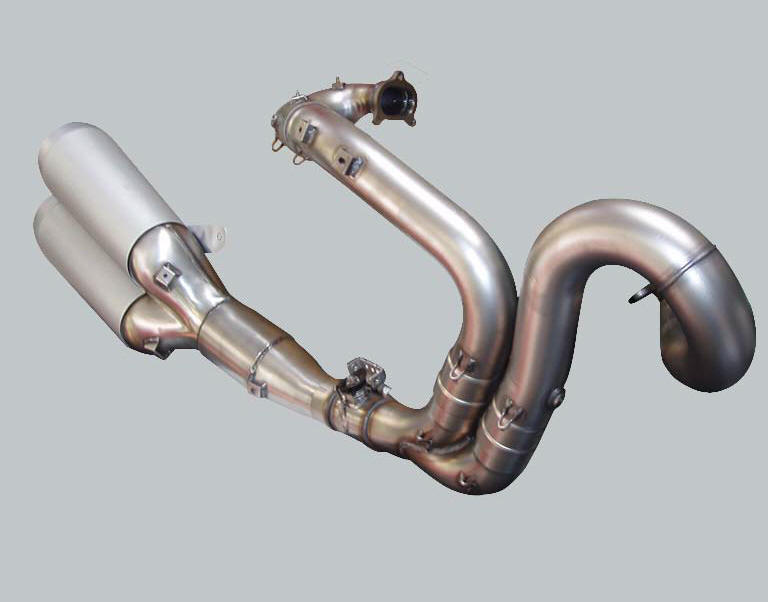 The image shows the exhaust system. The oxygen sensor for the horizontal cylinder (1) is visible on the right, the oxygen sensor for the vertical cylinder (2) is on the left. The catalytic converter is contained within the silencer, while the by-pass valve is installed in the section of pipe connecting the silencer to the twin tailpipes. A metal cable, controlled by an actuator with electric motor and a position sensor, branches off from the exhaust bypass valve.
Pin numbering of wiring harness side bbs unit connection
Fault codes Dds: stop light diagnosis -> stop light error (generic stop light malfunction indication). Dashboard: the error "stop light" is shown on the service display. The eobd warning li ...
Other materials:
Cylinder/piston assemblies
Piston Gudgeon pin circlip Gudgeon pin Set of piston rings Cylinder-crankcase gasket Water pump outlet union Hose clip Horizontal cylinder coolant inlet hose Vertical cylinder coolant inlet hose Cylinder barrel Cylinder head gasket Bush Spare parts catalogue Diavel a ...
General safety rules
Carbon monoxide When a maintenance operation must be performed with the engine running, maker sure that the working area is wellventilated. Never run the engine in an enclosed space. Warning Exhaust fumes contain carbon monoxide, which is a poisonous gas that can cause unconsciousness or e ...
Removal of the brake discs
The front brake discs consist of an inner carrier, which is mounted to the wheel, and an outer rotor. Both parts must be changed together as a pair. Remove the front wheel (sect. 7 - 1, Removal of the front wheel). Undo the retaining screws (5) of the disc to the wheel, remove the disc (7) ...