Ducati Diavel Service Manual: Front and rear mudguard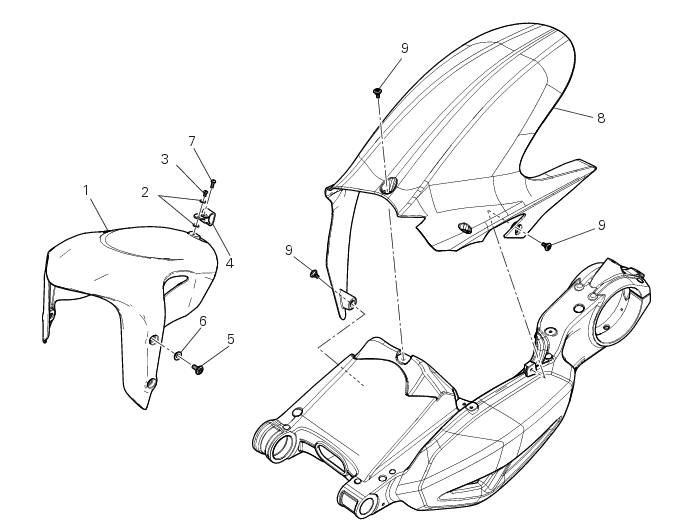 Front mudguard
Washer
Rivet
Clip
Screw
Spacer
Screw
Rear mudguard
Screw
Spare parts catalogue
Diavel abs rear swingarm
Diavel abs belly fairing
Diavel carbon abs rear swingarm
Diavel carbon abs belly fairing
Important
Bold reference numbers in this section identify parts not shown in the figures alongside the text, but which can be found in the exploded view diagram.
Note Apply recommended grease to the hole (a) of latch (6). Fit the seat (1) as follows: insert the tabs (b) (on the front side) under the rubber pads (c) of the gloves compartment; then push ...
Undo the screw (7) and remove the front brake lines (a) from the hose grommet (4). Undo and remove the special retaining screws (5): keep the spacers (6). Remove the front mudguard (1). War ...
Other materials:
Dashboard diagnosis
This function identifies any abnormal vehicle behaviours. The dashboard activates any abnormal vehicle behaviours in real time (errors). At key-on (at the end of the check) one or more "errors" are displayed in red (only if they are active). When an "error" is triggered, the indication (r ...
Background setting function for the dashboard on tank - dashboard 1
This function allows setting the "background" of the dashboard on tank. To access the function it is necessary to view the ""setting" menu", using buttons (1) "s" or (2) "t" select the "back light" function and press the reset button (3) to enter the following page. Use button (1) "s" or (2 ...
Noise and exhaust emission control system information
Source of emissions The combustion process produces carbon monoxide and hydrocarbons. Control of hydrocarbons is very important because under certain conditions, they react to form photochemical smog when subjected to sunlight. Carbon monoxide does not react in the same way, but is toxic. Duca ...