Ducati Diavel Service Manual: Front and rear mudguard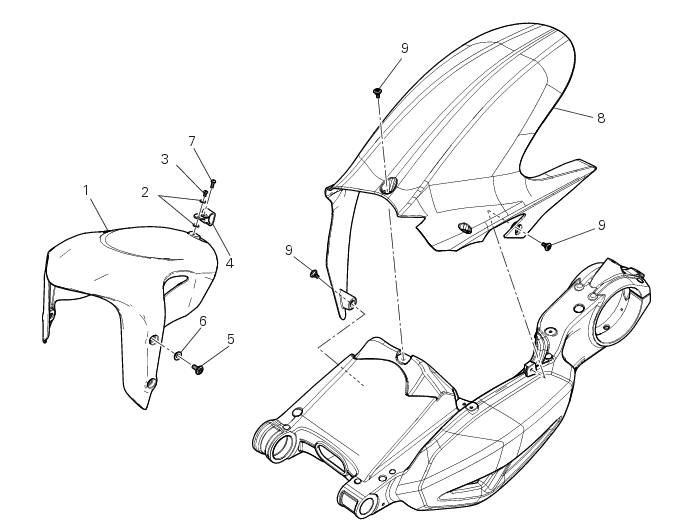 Front mudguard
Washer
Rivet
Clip
Screw
Spacer
Screw
Rear mudguard
Screw
Spare parts catalogue
Diavel abs rear swingarm
Diavel abs belly fairing
Diavel carbon abs rear swingarm
Diavel carbon abs belly fairing
Important
Bold reference numbers in this section identify parts not shown in the figures alongside the text, but which can be found in the exploded view diagram.
Note Apply recommended grease to the hole (a) of latch (6). Fit the seat (1) as follows: insert the tabs (b) (on the front side) under the rubber pads (c) of the gloves compartment; then push ...
Undo the screw (7) and remove the front brake lines (a) from the hose grommet (4). Undo and remove the special retaining screws (5): keep the spacers (6). Remove the front mudguard (1). War ...
Other materials:
Disassembly of the oil pump
Hold the oil pump (1) in a vice taking care not to damage the drive gear (12). Warning Make sure that vice jaws are faced with soft material. Remove the plug (14) and extract the spring (16) and by-pass valve (17). Check the condition of the above components. Remove the circlip (6) ...
Tips for use on the track
We recommend level 8 be used for a couple of full laps (to allow the tyres to warm up) in order to get used to the system. Then try levels 7, 6, etc., In succession until you identify the dtc intervention level that suits you best (always try each level for at least two laps to allow the tyres t ...
Engine on/off
Warning Before starting the engine, become familiar with the controls you will need to use when riding (page 99). Warning Never start or run the engine indoors. Exhaust gases are toxic and may lead to loss of consciousness or even death within a short time. In the presence of the active or ...