Ducati Diavel Service Manual: Changing bulbs
Changing the headlight bulbs
Before replacing a burnt out light bulb, ensure that the replacement bulb has the same voltage and power rating as specified for the lighting device in question (sect. 3 - 1.1, Lights/instrument panel).
Warning
The halogen light bulbs in the headlight become hot when switched on and remain hot for some time after they are switched off. Allow bulbs to cool before replacing them.
The position of the light bulbs in the headlight is as indicated below: low beam (lo), high beam (hi) and parking light (a).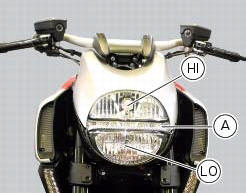 Remove the headlight, as described in the paragraph "renewal of the headlight" of this section.
To access the headlight bulbs loosen the screws (1) and remove the cover (2).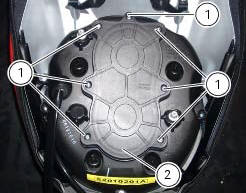 High beam (hi)
Disconnect the wiring connector (3) from the headlight bulb (4).
Release the retaining clip (5).
The bulb (4) has a bayonet base: press and twist counter clockwise to remove.
Fit the new bulb (4), insert the tabs on the bulb base into the corresponding slots to ensure the bulb is correctly positioned, push the bulb in and turn clockwise until it clicks into place.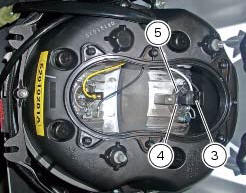 Refit the connector (3) to the lamp (4), the cover (2) to the headlight, then tighten the screws (1).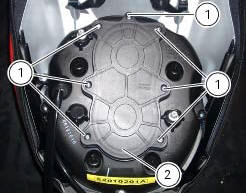 Low beam (lo)
To change the lo beam headlight bulb (6) see the procedure described above for the hi beam headlight bulb.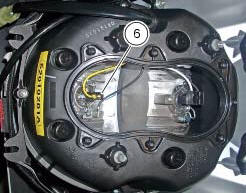 Replace the lamp with a new one of the same type and rating (sect. 3 - 1.1, Lights/instrument panel).
Note
Do not touch the transparent part of the bulb with your fingers, this will darken it and cause a loss of brightness.
Disconnect the headlight connectors (a) from the main wiring (refer to the tables of paragraph "routing of wiring on frame", sect. 6 - 1). Loosen nuts (2) that fix the front optical unit to th ...
The motorcycle must be perfectly upright with the tires inflated to the correct pressure and with a rider seated, perfectly perpendicular to the longitudinal axis. Position the motorcycle 10 met ...
Other materials:
Removing of the rear brake control
Warning The brake master cylinder manufacturer advises against servicing the brake master cylinder due to the safety critical nature of this component. Incorrect overhaul can endanger the rider and passenger. Maintenance operations on these units are limited to renewal of the following par ...
Explanation of the function of the ride-by-wire system
Mechanism Via metal cables, the throttle grip operates a roller mounted on one end of a spindle located near the horizontal cylinder throttle valve spindle. The aps sensor, which measures the position of the throttle grip itself, is mounted on the opposite end of this spindle. A mechanic ...
Checking protection and safety device components
Checking the side stand switch Remove the switch (1) from the side stand undoing screw (2) and disconnect the main wiring connector from the switch (see paragraph "routing of wiring on frame", sect. 6 - 1). Use an analogue or digital multimeter (sect. 6 - 11, Using a multimeter to check the ...