Ducati Diavel Service Manual: Indication of range reached for service
When service coupon threshold is achieved, upon every key-on the system displays the indication of the type of intervention that is required (oil service or desmo service).
The (red) warning is activated as a large icon for 10 seconds upon every key-on (1) then as a small warning that remains displayed (2) until it is reset.
After reset, the system will display again the type of intervention required next and the residual range (as described in the previous paragraph).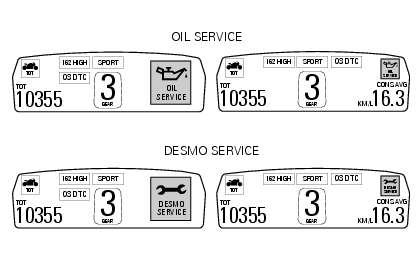 After resetting the first oil service warning (triggered at 1000 km), upon every key-on the system displays the indication of which type of service should be performed next (oil service or desmo ...
The dashboard activates in real-time some warnings / malfunction that are not dangerous for the correct operation of the vehicle. At key-on (at the end of the check) one or more "warnings" are d ...
Other materials:
Refitting the rear mudguard
Place the rear mudguard (8) on the swingarm, fitting the screws (9) with recommended threadlocker. The screw (9) in the bottom hole of the rear mudguard (8) must be installed with the washer (r). Tighten the screws (9) to a torque of 5 nm +/- 10% (sect. 3 - 3, Frame torque settings). ...
Checking drive chain tension
Important Have chain tension adjusted by a ducati dealer or authorised service centre. Make the rear wheel turn until you find the position where chain is tightest. Set the vehicle on the side stand. Push down the chain at the point of measurement and release. Measure the distance betwee ...
Low battery level
The activation of this (amber yellow) "warning" indicates that the status of the battery vehicle is low. It is activated when the battery voltage is ¼ 11.0 Volt. Note In this case, ducati recommends charging the battery as soon as possible with the specific device, as it is possible th ...