Ducati Diavel Owners Manual: Instrument panel on handlebar
Lcd.
Neutral light n (green). Illuminates when the gearbox is in neutral.
High beam light (blue).


It turns on to indicate that the high beam lights are on.

Engine oil pressure light
(red).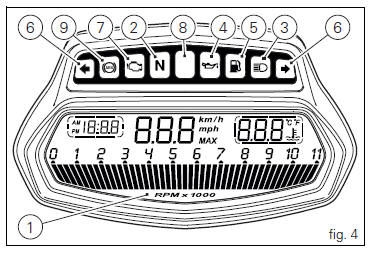 Illuminates when engine oil pressure is too low. It must turn on at key-on, but must turn off a few seconds after the engine has started.
It may come on briefly if the engine is very hot, but should go out again as engine speed increases.

Important
If this light (4) stays on, stop the engine or it may suffer severe damage.
Fuel warning light (amber
yellow).

Comes on when fuel is low and there are about 4 litres of fuel left in the tank.

Turn indicator lights
(green).

Illuminates and flashes when the turn indicator is in operation.

"Engine/vehicle diagnosis - eobd" light
(amber yellow).
It turns on in the case of "engine" and/or "vehicle" errors and in some cases will lock the engine.
Limiter light "over rev"/ traction control light "dtc" (red) (fig. 4):


(*) Depending on the model, each calibration of the engine control unit may have a different "setting" for the thresholds that precede the rev limiter and the rev limiter itself.

Note
If the over rev function light and the dtc intervention light should both come on at the same time, the instrument panel gives priority to the over rev function.
Abs lights (amber yellow)
(fig. 4).

This turns on to indicate that abs is disabled or not Functioning.



The vehicle is equipped with two instrument panels: an lcd (1, fig. 3) Located on the handlebar containing the key indications (speed, rpm, coolant temperature and clock) and a tft colour display ( ...
Speedometer. Gives road speed. Rev counter. Indicates engine revs per minute. Clock. Water temperature indicator. Indicates engine coolant temperature. Important Stop riding i ...
Other materials:
Replacing the tank flange and fuel sensor
Loosen the screws (19) securing the fuel tank flange (20). Remove the flange (20) from the tank (20). Recover the seal (21). Undo and remove the two fixing screws (g) and move the protection (f). Before reassembly, carefully remove any deposits or scale from all parts. Note The flang ...
Coverage
Warranty defects shall be remedied during customary business hours at any authorized ducati motorcycle dealer located within the united states of america in compliance with the clean air act and applicable regulations of the united states environmental protection agency and the california air r ...
Dashboard system
The vehicle is equipped with two dashboards: an lcd (1) located on the handlebar containing the key indications (speed, rpm, engine coolant temperature, and clock) and a tft colour display (2) located in the tank fairing displaying trip information (riding style set, odometer, consumption, ave ...