Ducati Diavel Service Manual: Disassembly of the oil pump
Hold the oil pump (1) in a vice taking care not to damage the drive gear (12).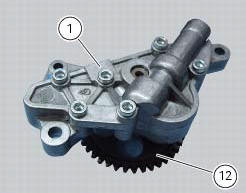 Warning
Make sure that vice jaws are faced with soft material.
Remove the plug (14) and extract the spring (16) and by-pass valve (17).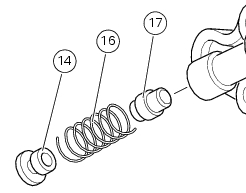 Check the condition of the above components.
Remove the circlip (6) and withdraw the pump drive gear (12).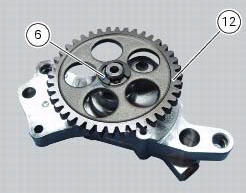 Undo and remove the screws (9) and (10) securing the pump assembly. Remove the oil pump assembly (1) and extract the o-rings (2) and (4) from the crankcase half together with two locating bu ...
Check that the circlip (3) and tongue (13) are present on the pump. Fit the pump drive gear (12) on to the oil pump and secure it by installing the circlip (6) in its groove. Insert the by-p ...
Other materials:
Cylinder/piston assemblies
Piston Gudgeon pin circlip Gudgeon pin Set of piston rings Cylinder-crankcase gasket Water pump outlet union Hose clip Horizontal cylinder coolant inlet hose Vertical cylinder coolant inlet hose Cylinder barrel Cylinder head gasket Bush Spare parts catalogue Diavel a ...
Low battery level
The activation of this (amber yellow) "warning" indicates that the status of the battery vehicle is low. It is activated when the battery voltage is ¼ 11.0 Volt. Note In this case, ducati recommends charging the battery as soon as possible with the specific device, as it is possible th ...
Gearchange mechanism
Gearchange pedal Bush Rubber pad Pin O-ring Gearchange lever tie-rod Screw Gearchange lever Washer Screw Ball joint Nut Nut Nut with left-hand thread Lh ball joint Spare parts catalogue Diavel abs l.H. Footrests Diavel carbon abs l.H. Footrests Important B ...