Ducati Diavel Service Manual: Disassembly of the oil pump
Hold the oil pump (1) in a vice taking care not to damage the drive gear (12).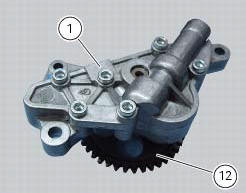 Warning
Make sure that vice jaws are faced with soft material.
Remove the plug (14) and extract the spring (16) and by-pass valve (17).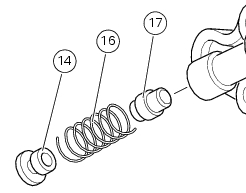 Check the condition of the above components.
Remove the circlip (6) and withdraw the pump drive gear (12).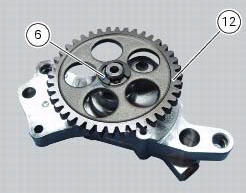 Undo and remove the screws (9) and (10) securing the pump assembly. Remove the oil pump assembly (1) and extract the o-rings (2) and (4) from the crankcase half together with two locating bu ...
Check that the circlip (3) and tongue (13) are present on the pump. Fit the pump drive gear (12) on to the oil pump and secure it by installing the circlip (6) in its groove. Insert the by-p ...
Other materials:
Display background colour (automatic adjustment)
Instrument panel background colour is set automatically according to exterior lighting conditions. When sensor detects "poor lighting" (night), it switches to black background mode; vice versa when a "significant" lighting is detected (day), it switches to white background ...
Removal of the primary drive gear
Withdraw the clutch housing (1) complete with driven gear of the primary pair (a). Remove the inner spacer (2). Remove the oil pump (d) (sect. 9 - 2.1, Removal of the oil pump). Lock the primary pinion (b) with the holding tool 88713.3417 And loosen the threaded ring nut (3) u ...
Headlight aim
The motorcycle must be perfectly upright with the tires inflated to the correct pressure and with a rider seated, perfectly perpendicular to the longitudinal axis. Position the motorcycle 10 metres from a wall or a screen. On the wall or surface, draw a horizontal line at the same height fr ...