Ducati Diavel Service Manual: Disassembly of the oil pump
Hold the oil pump (1) in a vice taking care not to damage the drive gear (12).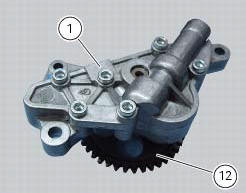 Warning
Make sure that vice jaws are faced with soft material.
Remove the plug (14) and extract the spring (16) and by-pass valve (17).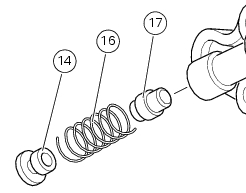 Check the condition of the above components.
Remove the circlip (6) and withdraw the pump drive gear (12).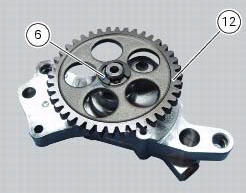 Undo and remove the screws (9) and (10) securing the pump assembly. Remove the oil pump assembly (1) and extract the o-rings (2) and (4) from the crankcase half together with two locating bu ...
Check that the circlip (3) and tongue (13) are present on the pump. Fit the pump drive gear (12) on to the oil pump and secure it by installing the circlip (6) in its groove. Insert the by-p ...
Other materials:
Refitting the timing belt driveshaft pulleys
To fit the circlip (10) in the driveshaft seat, use the tool code 88713.2834. Install the inner spacer (17) on the driveshaft, taking care to align the notch in the spacer with the slot for the woodruff key. Fit the first woodruff key (16) on the timing belt driveshaft. Locate the ...
Check the idle and the co amount with warm engine
Start the engine; Switch on the dds and check that it does not signal any error (otherwise consult the relevant paragraph of this manual to reset the error and proceed with the idle check); Enter the "self diagnosis" menu by selecting the diavel model in the available vehicle version. ...
Instrument panel diagnosis
This function identifies any abnormal vehicle behaviours. The instrument panel activates any abnormal vehicle behaviours in real time (errors). At key-on (at the end of the check) one or more "errors" are displayed in red (only if they are active). When an "error" is t ...