Ducati Diavel Service Manual: Low beam lights not working
Location of connections and components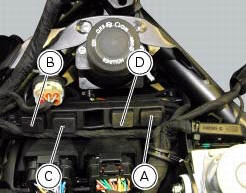 (A) injection relay; (b) etv relay (throttle valve operating engine); (c) radiator fan relay; (d) hands free relay.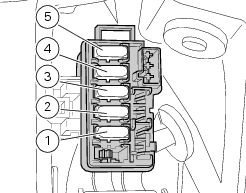 Fuses located at the rear left of the vehicle.
(1) 10A dashboard; (2) 5a engine control unit; (3) 15a key-sense; (4) 20a injection relay; (5) 10a throttle opening relay (etv).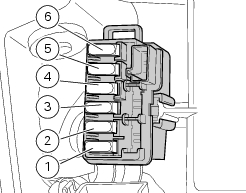 Fuses located at the rear right of the vehicle.
(1) 7.5A black box system (bbs); (2) 7.5A navigator/alarm; (3) 25a abs 2; (4) 30a abs 1; (5) 10a fans; (6) 7.5A diagnosis/recharge.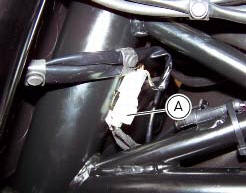 (A) low / high beam and parking light connections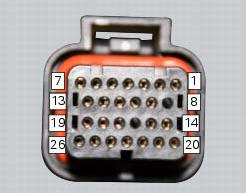 Fault codes The hi beam light on the (slave) dashboard flashes at 1hz frequency. Wiring diagram Location of elements on motorcycle (A) injection relay; (b) etv relay (throttle valve operating ...
Fault codes Dds: horn diagnosis -> short circuit to ground (s.C. Gnd). Dashboard: the error "claxon" (horn) is shown on the service display. The eobd warning light activates. Wiring diagram ...
Other materials:
Reassembling the electrical components support
Check the presence of clips (1), (9) and (24) on the support (5). Check the presence of rubber pads (6) and (8) and of cable grommet (7). Check that the voltage regulator (3) and the solenoid starter (18) are in place on the support (5) with their wiring as shown. The horn (22) mus ...
Alternator
It is equipped with a 12 v, 430 w generator, consisting of a fixed element (stator, a) located on the generator cover and of a movable element (rotor, b) fixed to the crankshaft. Note To check the battery charging system for faults, use the dds diagnosis instrument and follow the instruct ...
Removal of belly fairing
Loosen and remove the screws (5) and (8) that secure the oil cooler (7) to the rh (1) and lh (2) belly fairings. Remove the lh belly fairing (2) by loosening the screws (3) with relevant washers (4) and the screws (12). Follow the same procedure to remove the rh belly fairi ...