Ducati Diavel Service Manual: Reassembling the clutch
Position the spacer (13).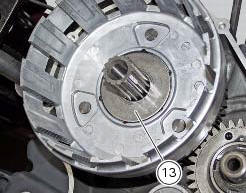 Fit the flat ring (11) and the belleville washer (10) on the clutch center (12), so that the convex side faces the clutch drum.
Locate the belleville washer (8).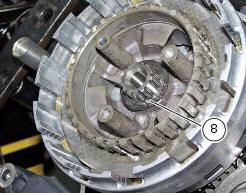 Apply the prescribed grease to the thread of the gearbox primary shaft and the mating surface of nut (7), and fit it over belleville washer (8).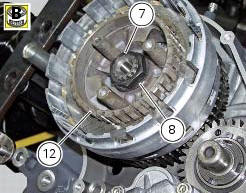 Lock the clutch center (12) by means of tool number 88713.3408 And tighten the retaining nut (7) to a torque of 190 nm (min. 180 Nm - max. 200 Nm) (sect. 3 - 3, Engine torque settings).
Install the clutch plates (9) in the following order: on the drum (12):
A series of ten driving discs (l) alternately to new driven discs (i) thickness 2 mm;
On the pressure plate (4):
One driven disc (h), 2 mm thick;
A driving disc (l).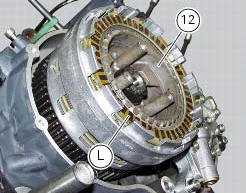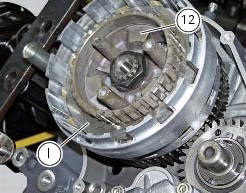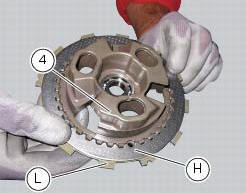 Insert the control pin (14) in the bearing (5) and the latter in the gearbox primary shaft.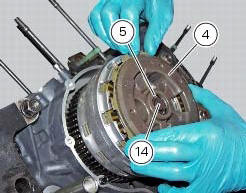 Place the pusher plate (4) with the two discs on the centring tool part no. 88713.3352.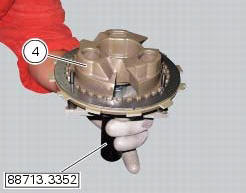 Fit the pressure plate (4).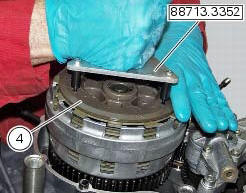 Insert a spring (3) in each slot.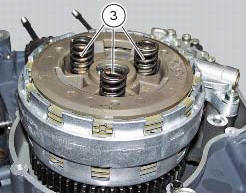 Position the o-ring (2).
Lubricate the thread of the screws (1) with oil.
Insert the screws (1).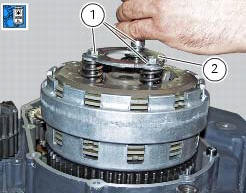 Tighten the screws (1) to a torque of 10 nm (min. 9 Nm - max. 11 Nm) (sect. 3 - 3, Engine torque settings).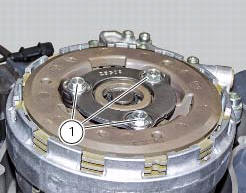 Clearance between the clutch drum and friction plates Insert a friction plate (e) in the clutch drum (f) and measure the clearance (s) with a feeler gauge. Clearance "s" must not exceed 0.6 Mm. ...
Clutch-side crankcase cover Screw Screw Oil level sight glass Screw Plate Bush Sealing ring Shim washer Circlip O-ring Locating bush O-ring Plug Sealing washer Scr ...
Other materials:
Tft - parameter setting/display
Warning Any adjustments to the dashboard must only be carried out when the motorcycle is stationary. Never operate the dashboard controls while riding the motorcycle. At the end of the check, the dashboard always displays as the "main" indication the odometer (tot) on the left and the averag ...
Checking the fuses
The main fuse box (1) and the secondary one (2) are located in the tool tray; to reach the fuse box remove the seat as specified under sect. 5 - 3 "Removal of the seat". The fuses are accessed by removing the cover, which shows the ampere ratings and mounting locations. For ampere ratings ...
Removing the electrical components support
Remove the following elements located inside the electrical components support: The battery fixing bracket (4) and the battery (14) as specified under section 6 - 2, battery; The voltage regulator (3) as specified under section 6 - 2,rectifier-regulator; The solenoid starter (18) ...