Ducati Diavel Service Manual: Reassembling the clutch
Position the spacer (13).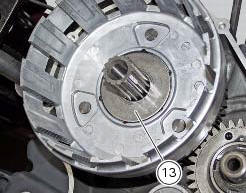 Fit the flat ring (11) and the belleville washer (10) on the clutch center (12), so that the convex side faces the clutch drum.
Locate the belleville washer (8).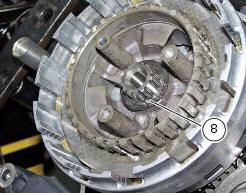 Apply the prescribed grease to the thread of the gearbox primary shaft and the mating surface of nut (7), and fit it over belleville washer (8).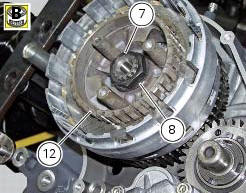 Lock the clutch center (12) by means of tool number 88713.3408 And tighten the retaining nut (7) to a torque of 190 nm (min. 180 Nm - max. 200 Nm) (sect. 3 - 3, Engine torque settings).
Install the clutch plates (9) in the following order: on the drum (12):
A series of ten driving discs (l) alternately to new driven discs (i) thickness 2 mm;
On the pressure plate (4):
One driven disc (h), 2 mm thick;
A driving disc (l).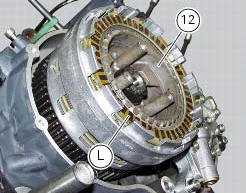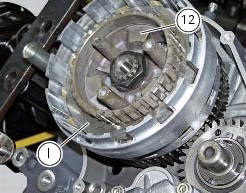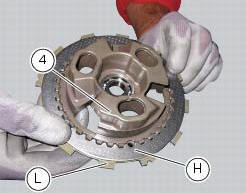 Insert the control pin (14) in the bearing (5) and the latter in the gearbox primary shaft.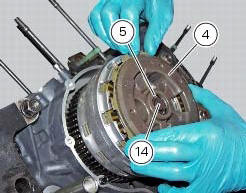 Place the pusher plate (4) with the two discs on the centring tool part no. 88713.3352.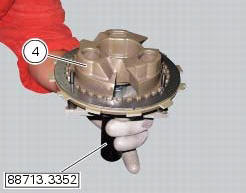 Fit the pressure plate (4).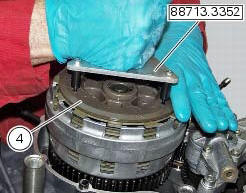 Insert a spring (3) in each slot.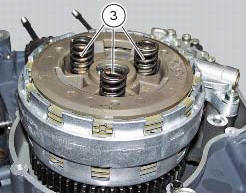 Position the o-ring (2).
Lubricate the thread of the screws (1) with oil.
Insert the screws (1).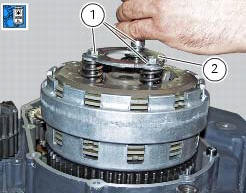 Tighten the screws (1) to a torque of 10 nm (min. 9 Nm - max. 11 Nm) (sect. 3 - 3, Engine torque settings).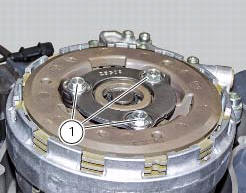 Clearance between the clutch drum and friction plates Insert a friction plate (e) in the clutch drum (f) and measure the clearance (s) with a feeler gauge. Clearance "s" must not exceed 0.6 Mm. ...
Clutch-side crankcase cover Screw Screw Oil level sight glass Screw Plate Bush Sealing ring Shim washer Circlip O-ring Locating bush O-ring Plug Sealing washer Scr ...
Other materials:
Refitting the crankshaft/connecting rod assembly
Install the connecting rod assembly (6) and (2) in the crankcase, carry out the shimming and crankcase half reassembly procedure as described in sect. 9 - 9.2, Reassembly of the crankcase halves. Important Make sure that the connecting rods (2) are correctly positioned in the cylinders. Incor ...
Rear-view mirrors
Rear-view mirror Screw U-bolt Spring washer Spare parts catalogue Diavel abs handlebar and controls Diavel carbon abs handlebar and controls Important Bold reference numbers in this section identify parts not shown in the figures alongside the text, but which can be found in ...
Refitting the air filters
Apply universal sealant in the air duct (2) and (6) groove (d). Fit seal (7) in the groove (d) having care to place it correctly in the relevant seat so as to avoid abnormal wrinkles. Pull out the filter cartridge (1) from the seat in the airbox. Position the rh air duct (2). Start ...