Ducati Diavel Service Manual: Checking and overhauling the components
Clearance between the clutch drum and friction plates
Insert a friction plate (e) in the clutch drum (f) and measure the clearance (s) with a feeler gauge.
Clearance "s" must not exceed 0.6 Mm.
If it does, renew the plates and, if necessary, the clutch drum.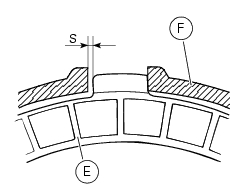 Overhaul of the clutch plates
The clutch plates must not show any signs of blackening, grooves or deformation.
Measure the thickness of the friction plates; it should not be less than 2.6 Mm.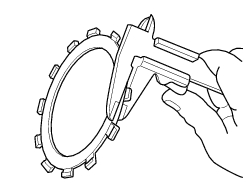 Important
The total thickness of the discs pack must not be less than 46.1 Mm.
Place the plate on a flat surface and check the amount of deformation with a feeler gauge.
Max. Flatness error: 0.2 Mm.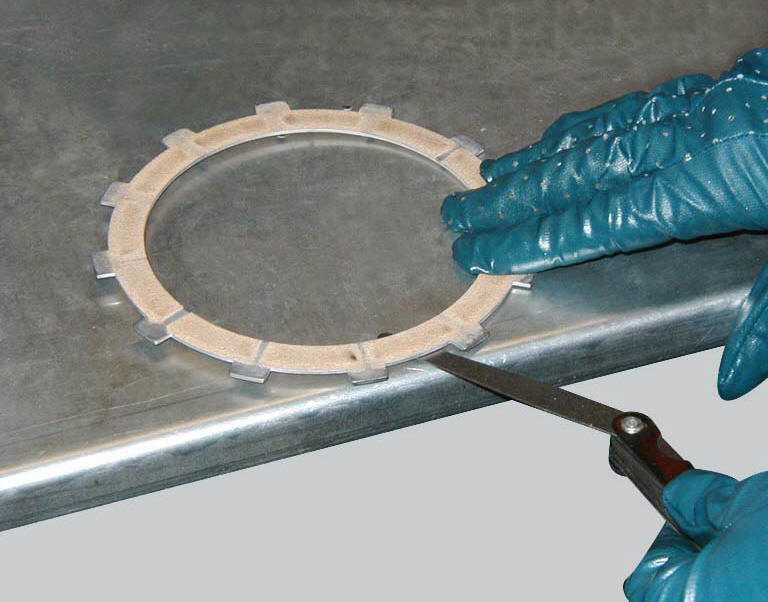 Overhaul of the pressure plate
Check bearing (5) condition; renew the bearing if the play is excessive.
Check the contact surfaces of the last friction plate; if extremely scored, polish it in the same manner as described previously for the cylinder head surface (sect. 9 - 4.5, Overhaul of cylinder head components).
Check conditions of the spring guide bucket tappet (g) of the pressure plate (4) and of the circlips (6).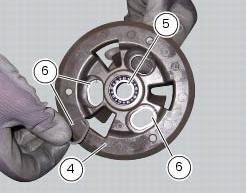 Overhauling the pressure plate springs
Measure the length "l" of each spring (3).
Minimum length: 41 mm.
Renew any springs that are shorter than the above limit value.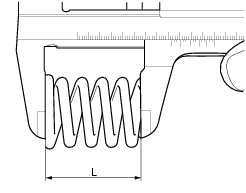 Note For clarity, the figures show the engine removed from the frame. Undo the fixing screws (1) and remove the ring (2) and the springs (3) from the pressure plate (4). Slide the pre ...
Position the spacer (13). Fit the flat ring (11) and the belleville washer (10) on the clutch center (12), so that the convex side faces the clutch drum. Locate the belleville washer (8). ...
Other materials:
Air temperature sensor
Introduction The engine control system on the diavel uses a sensor that measures air temperature. This sensor has a resistance of ntc type (negative temperature coefficient), that reduces its own value when the temperature increases. The air temperature sensor allows the engine control unit t ...
Removal of the primary drive gear
Withdraw the clutch housing (1) complete with driven gear of the primary pair (a). Remove the inner spacer (2). Remove the oil pump (d) (sect. 9 - 2.1, Removal of the oil pump). Lock the primary pinion (b) with the holding tool 88713.3417 And loosen the threaded ring nut (3) u ...
Storing the bike away
If the motorcycle is to be left unridden over long periods, it is advisable to carry out the following operations before storing it away: clean the motorcycle; empty the fuel tank; pour a few drops of engine oil into the cylinders through the spark plug bores, then turn the engine over by hand ...