Ducati Diavel Service Manual: Refitting the timing belt driveshaft pulleys
To fit the circlip (10) in the driveshaft seat, use the tool code 88713.2834.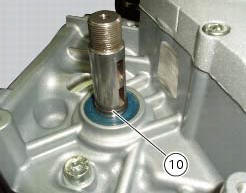 Install the inner spacer (17) on the driveshaft, taking care to align the notch in the spacer with the slot for the woodruff key.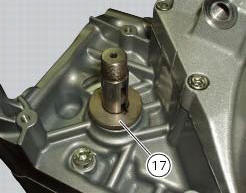 Fit the first woodruff key (16) on the timing belt driveshaft.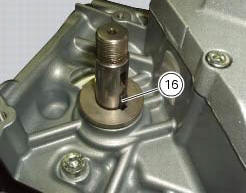 Locate the inner pulley (18).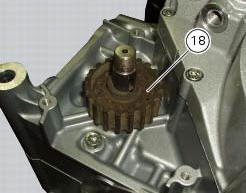 Refit the second tongue (16) and the washer (19).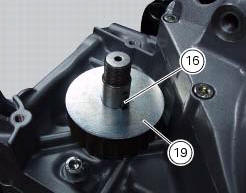 Locate the outer pulley (18) and the spacer (20).
Apply the recommended grease to the threads on the end of the driveshaft.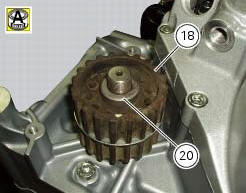 Fit the nut (15).
Important
To prevent the nuts working loose and consequent serious engine damage, always use new self-locking nuts on all the timing belt pulleys on reassembly.
Lock rotation of the pulleys by means of the tool part no. 88713.1805 And, using the insert supplied with the wrench together with a torque wrench, tighten the self-locking nut to the torque of 71 nm (min. 64 Nm - max. 78 Nm) (sect. 3 - 3, Engine torque settings).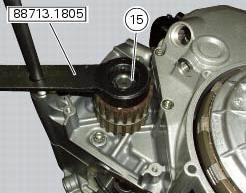 Use the tool code 88713.1805 To hold the driving pulley on the engine crankcase against rotation. Important If this operation is carried out with the engine installed in the frame, hold the driv ...
Apply the recommended threadlocker to the threads of the studs. Insert the tensioner pins (12) on the cylinder heads, and tighten them using the tool code 88713.1821. Tighten the tensioner pin ...
Other materials:
Refitting the cylinder head assemblies
Warning To prevent oil leaks past the contact area between cylinders and crankcase, each time the head is removed, cylinder and piston must be removed as well to clean the mating faces of crankcase and cylinder and restore the spoiled gaskets and o-rings and apply again liquid sealant (sect. ...
Abs fault indicator not working
Fault codes Dds: displays a fault code described in the description of the abs system. Dashboard: no fault code displayed. Wiring diagram Checks The abs fault indicator indicates the occurrence of one or more faults in the antilock brake system, or if the system itself has been disable ...
Refitting the rear wheel
Lubricate the wheel shaft threaded end with prescribed grease. Insert the wheel shaft by matching (a) with pins (b). Install spacer (3) with the conical surface faced to the wheel conical surface, washer (2), apply prescribed grease to nut (1) and insert it by hand (1). Tighten the ...