Ducati Diavel Service Manual: Refitting the timing belt driveshaft pulleys
To fit the circlip (10) in the driveshaft seat, use the tool code 88713.2834.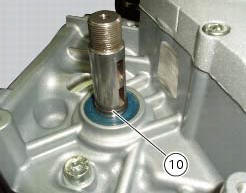 Install the inner spacer (17) on the driveshaft, taking care to align the notch in the spacer with the slot for the woodruff key.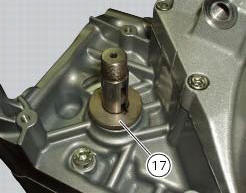 Fit the first woodruff key (16) on the timing belt driveshaft.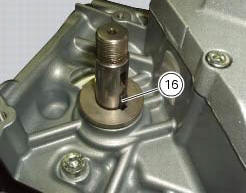 Locate the inner pulley (18).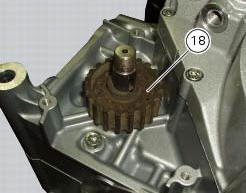 Refit the second tongue (16) and the washer (19).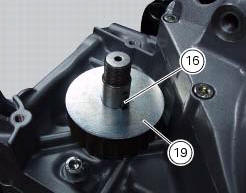 Locate the outer pulley (18) and the spacer (20).
Apply the recommended grease to the threads on the end of the driveshaft.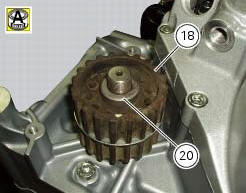 Fit the nut (15).
Important
To prevent the nuts working loose and consequent serious engine damage, always use new self-locking nuts on all the timing belt pulleys on reassembly.
Lock rotation of the pulleys by means of the tool part no. 88713.1805 And, using the insert supplied with the wrench together with a torque wrench, tighten the self-locking nut to the torque of 71 nm (min. 64 Nm - max. 78 Nm) (sect. 3 - 3, Engine torque settings).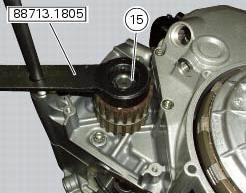 Use the tool code 88713.1805 To hold the driving pulley on the engine crankcase against rotation. Important If this operation is carried out with the engine installed in the frame, hold the driv ...
Apply the recommended threadlocker to the threads of the studs. Insert the tensioner pins (12) on the cylinder heads, and tighten them using the tool code 88713.1821. Tighten the tensioner pin ...
Other materials:
Storing the bike away
If the motorcycle is to be left unridden over long periods, it is advisable to carry out the following operations before storing it away: clean the motorcycle; empty the fuel tank; pour a few drops of engine oil into the cylinders through the spark plug bores, then turn the engine over by hand ...
Refitting the radiator
The reassembly procedure is the same for both radiators. Check for the nuts with clips (8). Refit the rh radiator (13) on the frame and tighten the screws (4) and (5) with the spacers (6) to a torque of 10 nm +/-10% (sect. 3 - 3, Frame torque settings). Connect the connections of ...
Indicator cons. - Instantaneous fuel consumption
This function indicates the "instantaneous" fuel consumption. The calculation is made considering the quantity of fuel used and the distance travelled during the last second. The datum is expressed in "l / 100" (litres / 100 km); it is possible to change the units of measurement for "consump ...