Ducati Diavel Service Manual: Refitting the timing belt driveshaft pulleys
To fit the circlip (10) in the driveshaft seat, use the tool code 88713.2834.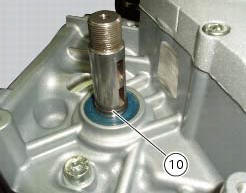 Install the inner spacer (17) on the driveshaft, taking care to align the notch in the spacer with the slot for the woodruff key.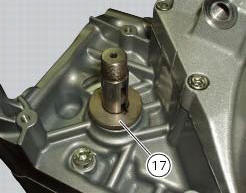 Fit the first woodruff key (16) on the timing belt driveshaft.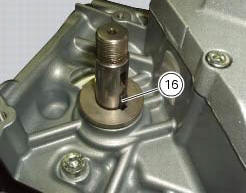 Locate the inner pulley (18).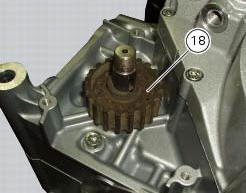 Refit the second tongue (16) and the washer (19).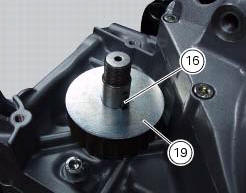 Locate the outer pulley (18) and the spacer (20).
Apply the recommended grease to the threads on the end of the driveshaft.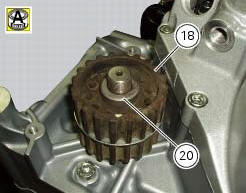 Fit the nut (15).
Important
To prevent the nuts working loose and consequent serious engine damage, always use new self-locking nuts on all the timing belt pulleys on reassembly.
Lock rotation of the pulleys by means of the tool part no. 88713.1805 And, using the insert supplied with the wrench together with a torque wrench, tighten the self-locking nut to the torque of 71 nm (min. 64 Nm - max. 78 Nm) (sect. 3 - 3, Engine torque settings).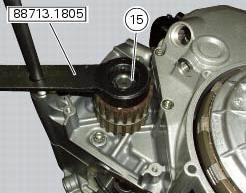 Use the tool code 88713.1805 To hold the driving pulley on the engine crankcase against rotation. Important If this operation is carried out with the engine installed in the frame, hold the driv ...
Apply the recommended threadlocker to the threads of the studs. Insert the tensioner pins (12) on the cylinder heads, and tighten them using the tool code 88713.1821. Tighten the tensioner pin ...
Other materials:
Headlight aim
The motorcycle must be perfectly upright with the tires inflated to the correct pressure and with a rider seated, perfectly perpendicular to the longitudinal axis. Position the motorcycle 10 metres from a wall or a screen. On the wall or surface, draw a horizontal line at the same height fr ...
Overhaul of the crankcase halves
Carefully examine the engine crankcase halves. Check that the surfaces of the crankcase halves are perfectly flat using a reference surface. Check that the bearings (1) and (18), and the bushings (2) and (17) are in optimum conditions. Note that the main bearings must always be changed in p ...
Using a multimeter to check the electrical systems
Introduction This instrument allows you to measure resistance, voltages, and current values. Multimeters can be divided into two basic types: analogue and digital display multimeter. An analogue multimeter has a pointer display. The dial is marked with the scales to be used for measurement of ...